TISSOT ASTROLON IDEA 2001 RESEARCH 1971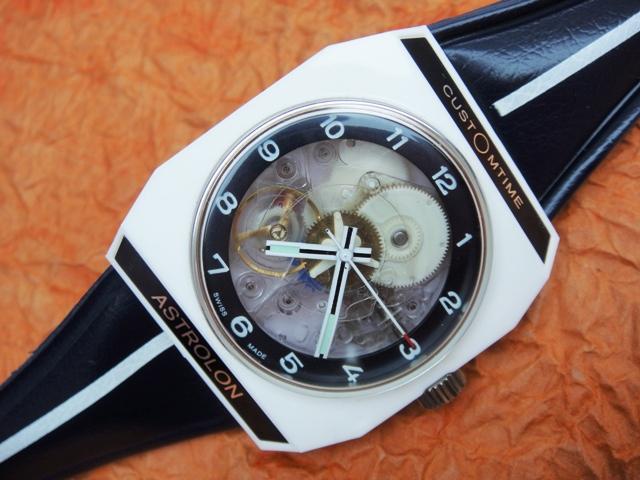 The first "fully" plastic watch developed by Tissot Research. In 1971 the World was astonished with innovative plastics introduced just moments earlier to the space and aircraft industry due to their light weight and durability. This futuristic concept was named Astrolon or Sytal in the French speaking markets (Systeme Total d'Autolubrification). The 2250 calibre contained only 52 parts instead of the usual 91 thus drastically reducing production costs. The movement bridges were molded in transparent acryl and most of the mechanical parts were made from a teflon-type self-lubricating plastic. Only "a few" parts were made from metal - balance wheel, hairspring, mainspring and barrel, clutch levers and gears, seconds pinion, minute wheel and hands, as well as most of the bearings that hold the teflon wheels.
The movement was fitted into many private labels but the most futuristic and collectible is the official watch that marketed the concept - the Tissot Astrolon "Idea 2001" as pictured in this review but branded CustomTime. Not only was the movement fully plastic but also the casing and leatherette strap were manufactured from synthetic space materials. A few colors were available but don't be surprised to find a NOS piece with completely aged and cracked strap. This CustomTime is surprisingly all NOS and like new with flexible plastic strap that is affixed to the acryl case with four large acryl screws that are easy to break after decades of storage. The "Idea" was definitely innovative but was introduced at least 20 years to early as the psychological resistance of the watchmakers and industry rejected a perfectly engineered watch just because it was plastic.
Keywords: tissot astrolon, idea 2001,
tissot research, tissot 2250, sytal, autolub

Market value: 100-500$ (color, condition, box)