ZODIAC CHRONO-MATIC CHRONOGRAPH 1972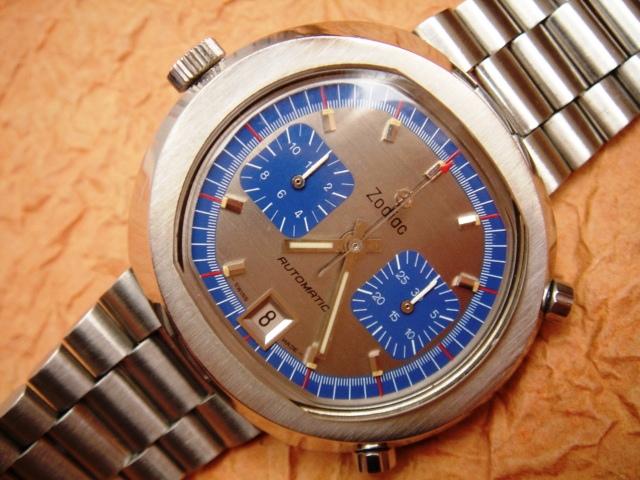 A so-called 'poor-mans Heuer' featuring a Chronomatic in a Zodiac case. As mentioned in other reviews the popular 'Calibre 11' was fitted to dozens of watches including some moderately cheap private labels such as Dugena. So why pay more for the same thing if you can get yourself a "Heuer" for a fraction of the original price? If you don't mind what logo your watches have then a 'poor-mans Heuer' is the best choice...especially if you like good 70's design. Many of the low brand Chronomatics usually have cooler cases and dials than most classic Heuers or Breitlings. Pictured below is a comparison of the Chronomatic module next to the base calibre Buren 1281 with visible automatic micro-rotor. The 1281 is found in most Hamilton Thin-o-matics and Bulova Ambassadors from the 1960's making parts very easy to find.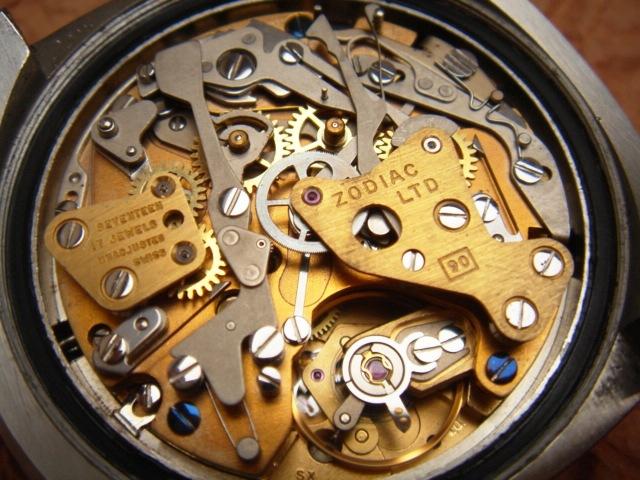 This Zodiac is probably one of two models from this once reputable Swiss company. The case is huge with a nice 70's feel to it but the bracelet is not properly matched IMO. The lugs are placed on the very bottom and the bracelet is pretty thin in comparison to the thick case so in result the watch looks like a highly exposed brick fastened to the wrist with a piece of tape. The complete set pictured here with original signed in/out box was very difficult to find but I just had to let it go as it didn't suit me at all. PS. The same case design with crown in between pushers was used for some affordable manual chronographs in the 1970's thus some parts (caseback, crystal) might be easier to find then simply robbing a Zodiac Chronomatic.
Keywords: zodiac chronograph, automatic, chronomatic
Market value: 650-1300$ (condition, box)