ZODIAC ASTROGRAPHIC TANK SST MYSTERY DIAL 1972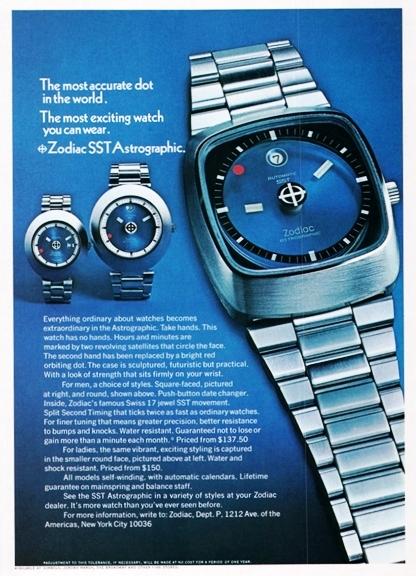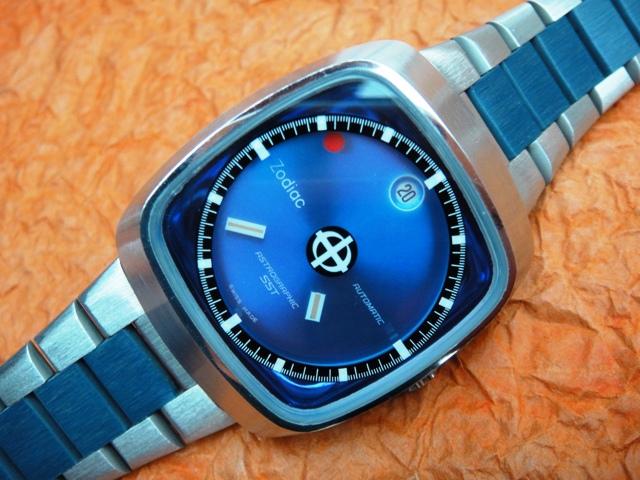 Ranked Number 1 among mystery dials. Several case designs and dial colors were available but the blue dialed tank is considered the most popular Astrographic as it resembles the blue sky on which the three acrylic discs show time as if they were orbiting satellites... thus the name Astrographic. Additionally the color "mask" under the crystal creates a deep blue appearance that increases the astral effect. Mask colors usually match the dial but mixed versions can also be found.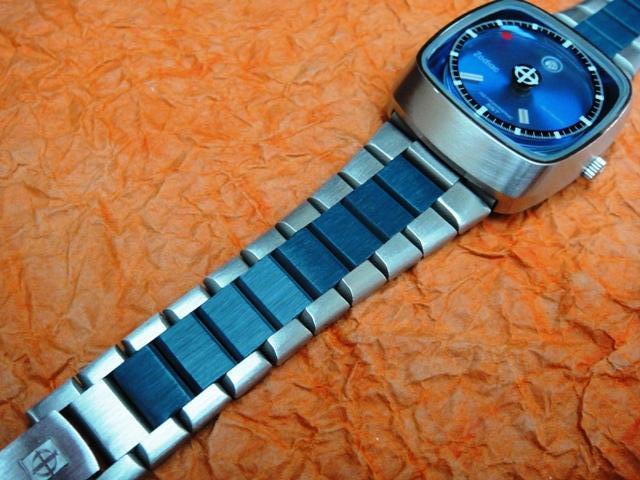 The watch shown here is an extremely rare version with matching steel and blue fibreglass bracelet. In my collecting experience and hundreds of Astrographics I have never seen another :) On top of that this one is NOS which is an additional premium...needless to say that finding an unworn Astrographic is a rarity. Astrographics were solid watches made to last and most of these clearly show that they were worn untill they gave up the ghost. Many have been improperly restored or heavily polished so please check gallery pictures to observe the proper factory brushing on the cases.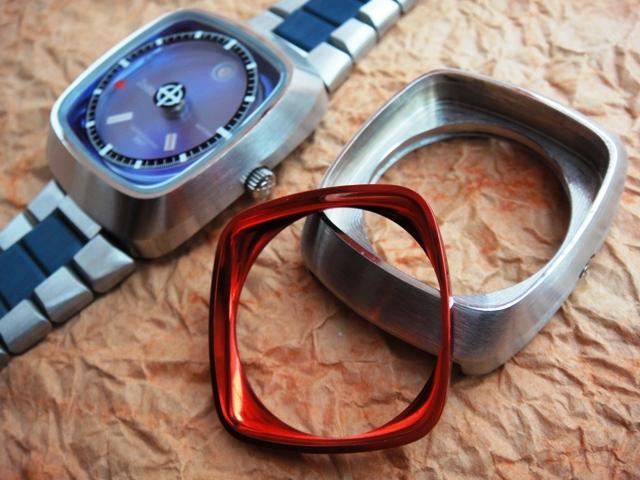 Restoring the satin finish and even polishing the glass crystal is not a big challenge for most collectors. The challenge begins with the details. Plastic discs tend to age and loose their transparency what in turn affects the total appearance and in result also the value...sometimes depleting it by 50%. Discs can be reproduced by painting the markers on a thick sheet of super transparent foil (check your fridge for plastic packaging :) or by scanning and printing them on overhead projector transparencies. Cutting the discs afterwards is easy.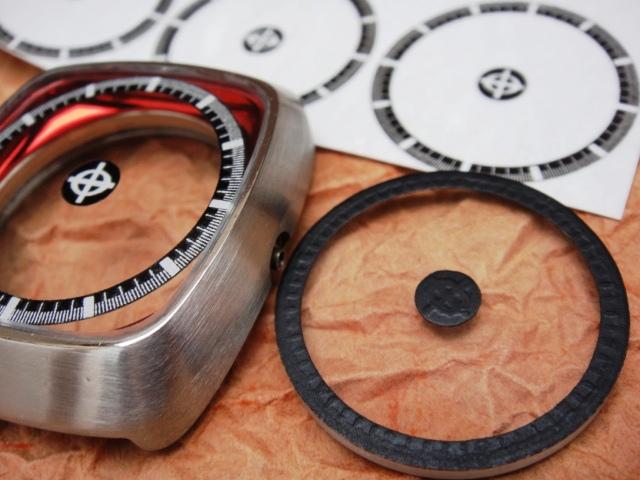 Another issue is the thick glass crystal with indexes and logo printed underneath. In the event the crystal is heavily scratched or the print is worn out the entire watch looses it's appearance. New crystals are hard to source so you can arrange to have a plain crystal printed by a company dealing with dial restorations. This will be expensive so I suggest following my hint. Scan, photoshop and print the black index ring with logo on a sheet of printable transparent sticker foil (the better the image and transparency the better the outcome). Using a needle paint the indexes and logo white, afterwards cut at the edge with precision scissors. Coat with a layer of black paint and apply the sticker firmly to the underside of a glass crystal. For the oval Astrographic use a 28,5x1,5mm crystal or 29,5x2mm if the tension gasket has been damaged.
Keywords:
zodiac astrographic, zodiac sst, mystery dial
Market value: 150-600$ (condition, box)