WITTNAUER JUMP HOUR 1970's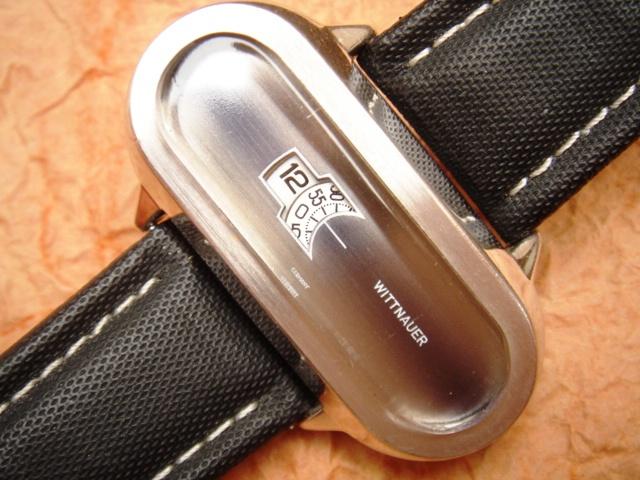 This 40mm wide jump hour by Wittnauer is an extremely rare piece made in West-Germany. It's hard to come by probably due to problems with the movement. The original factory calibre is a German Otero 336 calibre (digitally modified 236). The base movement is robust but the jumping module is very fragile. The minute-disc is fitted onto the cannon pinion and rotates normally. The plastic hour-disc is loose and is held in place with the minute-disc. The hours are indexed by means of two very delicate springs. Both springs are fixed permanently onto the hour-wheel (or cannon pinion?). A thicker spring is responsible for rotating the hour-disc whereas a very thin spring is stopped by 12 small pins on the base plate. As the hour-wheel rotates it moves the thin spring from pin to pin gathering some tension in between them.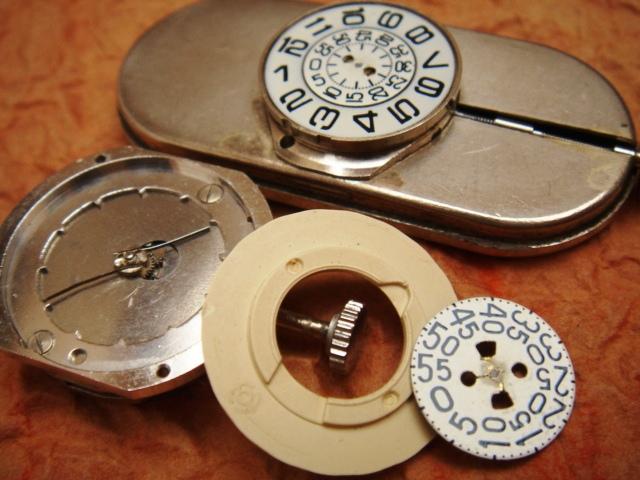 When the thin spring is released from a pin it forwards its motion to the hour-disc providing a jumping functionality. The jump is equal always to one hour as the spring is stopped at the next pin. Due to the fragile nature of these springs it is not suggested to turn the discs counter-clockwise. Adjusting these springs for proper jumps is a real pain and usually ends up with damaging the springs beyond repair. Replacing the springs is impossible as they are press-fitted onto the hour-wheel and making them from scratch will be timeconsuming and will not guarantee perfect functionality. You can try finding a spare movement in some ladies jump hours but the best replacement is a bullet-proof Lorsa 8F that fits perfectly. You will only have to modify the dial feet. The 8F movement is fitted into the caseback (comparison on the right).
Keywords: wittnauer jump hour

Market value: 50-150 (condition, box)