WALTHAM WALCHRON OPTEL DSM LCD 1972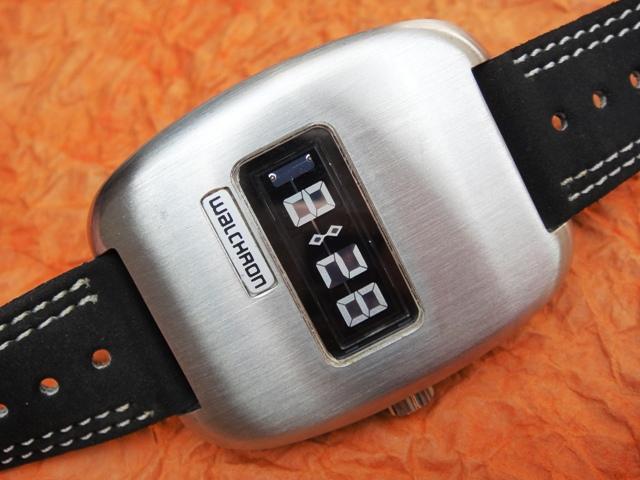 Many watch companies cooperated with Optel to market the new invention - the first liquid crystal wristwatch. Based on Pieter Doensen's database the "Walchron" by Waltham was launched earlier than the most common DSM the "Optcom I" by Jules Jurgensen. The "Walchron" was the largest order for Optel but is incredibly scarce as only a few thousand were ever assembled. The same case design was used for other brands such as Delvina or Mathey-Tissot that can be found on Peter Wenzig's website. The small logo applied with glue must have been a flexible approach towards multi-branding but it's far from perfect with small gaps on the edges. The watch pictured is probably the only one you will ever see especially in such pristine condition - a New Old Stock set with box, instructions and original unworn leather strap.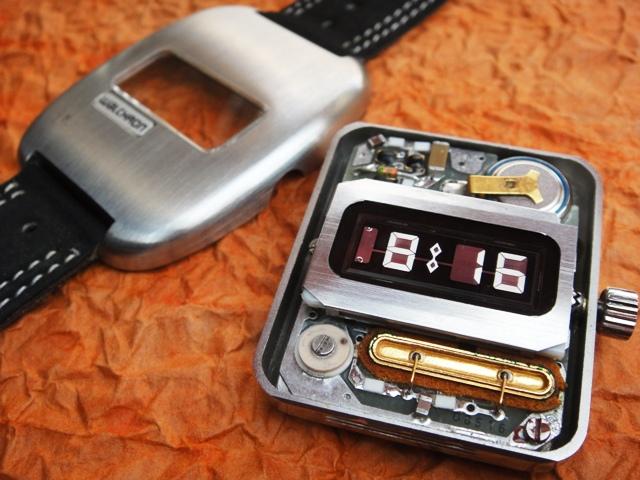 The matching original box is a rarity as well and I find the marketing slogan "the first..." very interesting from a history point of view. This watch truly originates from the first batch of Optel DSM's. It has a low serial number 8516 with flashing battery-saving display enabled by means of the 5428 microchip. The module is the same as in other Optel watches but the all steel case is a bit slimmer. The difference in thickness is only about 1,5mm but the angled design of the Walchron case somehow gives it a less chunky appearance from the ordinary Epsa cases. The case is not signed by the producer so it might also be an Epsa design however both the caseback and casefront are thinner and can not be swapped in between the larger cases. The casefront has a smart indentation drilled on the inside to accomodate the battery cell.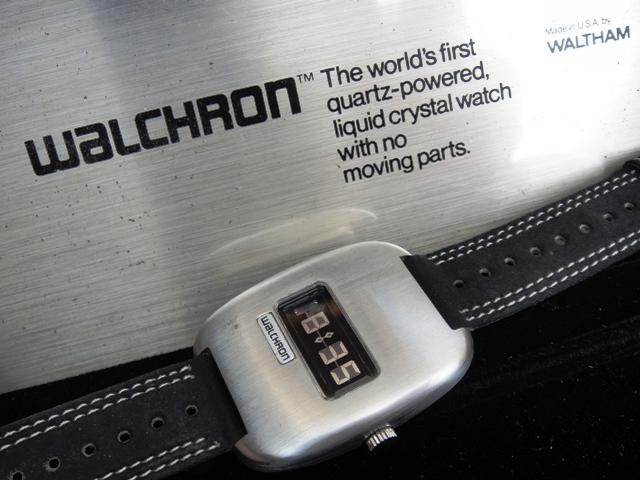 The rare Walchron box is high quality what additionally indicates that these watches were far from cheap. Aluminium (or stainless steel) inserts give it a nice space-design touch and compliment the watch greatly thus opening the box is a real pleasure for the new owner. The instruction sheet is a nice premium that is rare to find as such leaflets were usually trashed. Fortunately enough this watch was acquired from the very first owner who didn't even remove it from the box. The setting instructions are a must for a new owner yet they seem rather complicated in terms of comprehension. Try to read time-zone or telephone setting below and you will surely need to read them at least twice to understand what the authors had in mind... and now take a journey back in time to 1972 and you will surely end up with a headache :)

Keywords: optel, dsm lcd, walchron

Market value: 200-600$ (version, condition, box)