UNIVERSAL GENEVE CAL.74 WHITE SHADOW QUARTZ 1975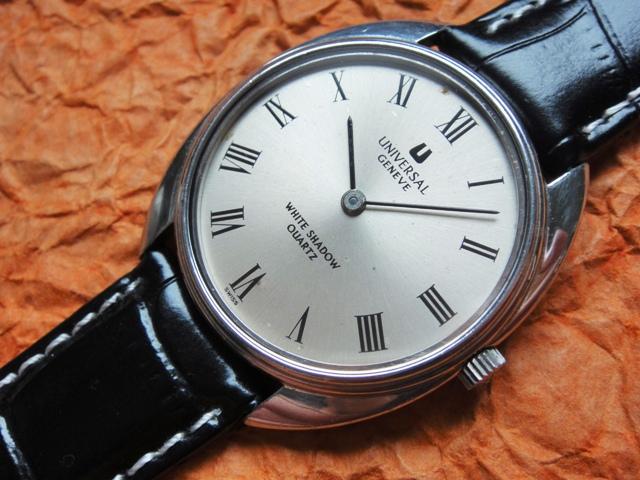 In the 1975 Basel Fair the Calibre 74 was introduced as the World's thinnest Quartz (only 3,45mm!) as part of the super-slim "Shadow" line from Universal Geneve. It is so rare that is not even mentioned in Pieter Doensen's database unless someone can link it with the Analoquartz from 1976. It definitely has a stepping motor from the French Socrem company similar to those used in GP350, Enicar320 or Bulova242. Universal Geneve to my best knowledge never developed their own electric or electronic watches but at that time they did cooperate with Bulova and used their 218 tuning fork movement in the "Unisonic". This Quartz has no markings to link it with any producer but it is somewhat similar to the 1977 Bulova 242. Still I wonder where this construction derives from? Pure inhouse idea from Universal Geneve? Let me know!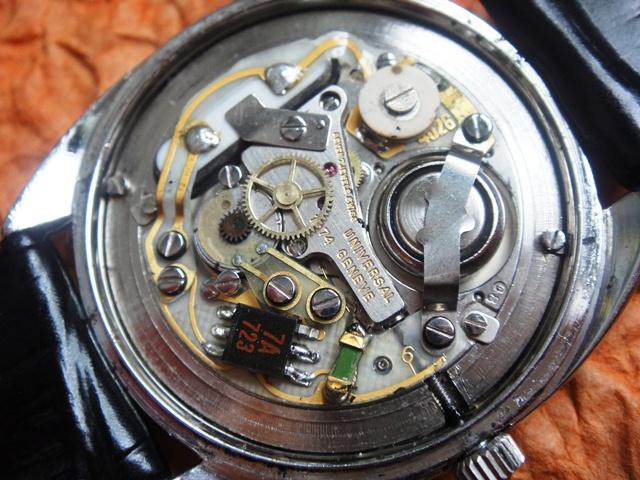 The movement has an uncomplicated construction although at first glance it might be perceived otherwise. The electronic module with chip and quartz are mounted on a pertinax substrate that is quite easy to remove. The quartz packet is a typical SSIH type of 32,786Hz used in many Swiss watches from 1975/76 hence this is my only guess for dating this watch properly. Once all components are removed the base-plate with gears appears very naked as there is pratically nothing left. Note the thin gilded spring pictured below protruding from the base-plate which must be connected with the proper screw-post on the stepping motor.
Keywords:
univeral geneve quartz, white shadow

Market value: 100-450$
(steel or gilded version, condition, box)