UNIVERSAL GENEVE 1-53 UNISONIC 218 ACCUTRON 1965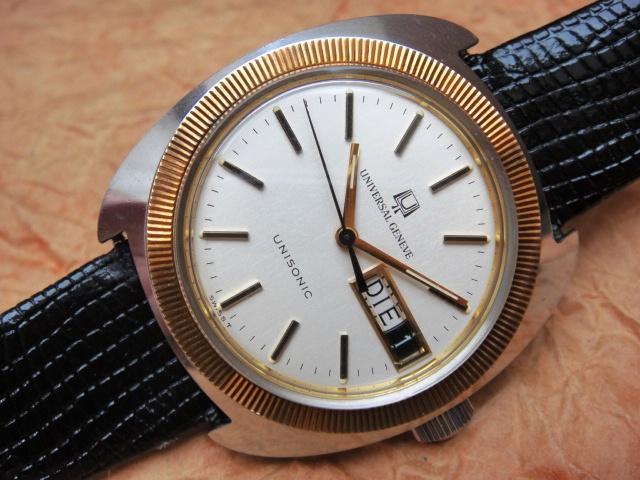 After the legendary Accutron 214 Bulova introduced a following improved and simplified 218 calibre in 1965. It is very alike but has a standard crown/stem with setting clutch and two separate coils what must have significantly decreased costs during repairs. The 218 was made by Bulova in the USA and by the joint-venture Citizen in Japan as calibre 370 and sold as Hisonic. The most expensive 218 is the Unisonic by the top-shelf Universal Geneve. The Swiss manufacture either had plain US ebauches movements finished locally in Switzerland or they produced the mechanical parts to allow the movement to be stamped Swiss made and marketed as such. All parts between the Bulova, Citizen or Universal version are interchangeable.
Servicing and adjusting a 218 is very similar to the 214 however simplified to large extent as there is no safety bridge nor index guard. Proper indexing of the pawl and index fingers is also performed with an adjustment screw although manual adjustments are also advised. You can either turn the collets or bend (so called) stress limiters on top of the fingers or the index gage (countering end) on the index finger. PS. This Universal is a rare waterproof version with screwdown crown and 14 sided tight caseback opener that is very hard to find.
Keywords: bulova accutron, bulova 218, unisonic
Market value: 75-300$ (Bulova 218, model, condition), 150-500$ (Unisonic 53, model, condition)