TISSOT NAVITIMER JUMP HOUR 1972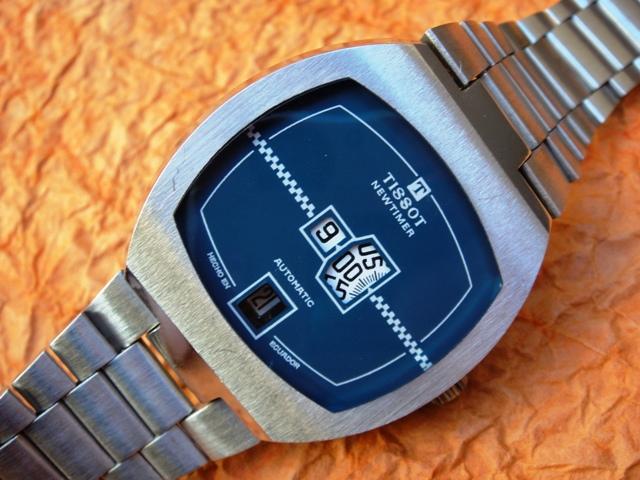 The "Newtimer" is probably the only jump hour from Tissot and is also one of the most expensive ones among the "ordinary" direct reads. It's worth the money being made to high quality standards with perfectly brushed and polished all steel cases (made in a few designs). The dials were made in two or three colors however the red one should have been additionally coated black from the inside because the white discs can be clearly seen through the red dial. If you wonder why the crown is so much raised then try to push it to change the quick-set date :) A mint set with tags is hard to find. Based on the serial numbers on the tags and also on the movement (#16200xxx) these two pictured are from 1973.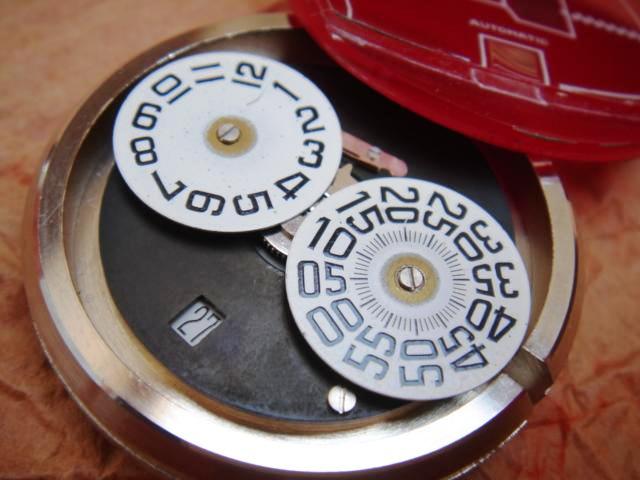 The movement seems to be an inhouse Tissot although by that time Tissot used to be mainly a marketing house. The 24 jewel reliable 2481 digital calibre is a standard 2581 automatic with applied jump module that can be also found in many pin-lever jump hours of the 1970's. This is the easiest jump hour modification available (ever) by fitting a wheel with finger onto the cannon pinion. The wheel rotates minutes and the finger kicks the hours. A small jumping spring on top secures the hours from rotating more than necessary.
Keywords: tissot jump hour, newtimer

Market value: 150-500$ (version, condition)