SUTTON INSTALITE JUMP HOUR 1970's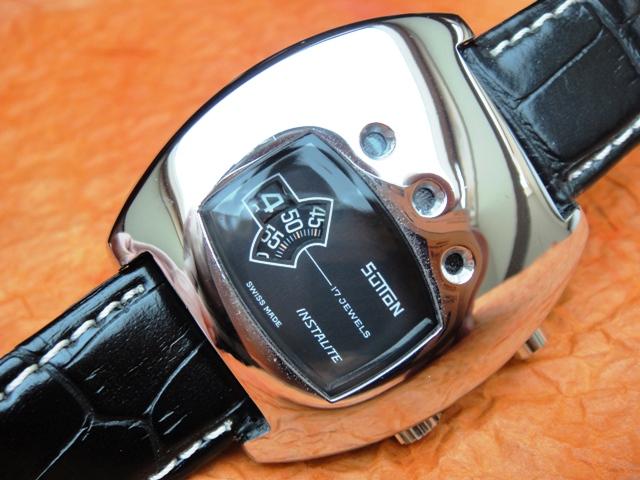 This "Instalite" can be found as Sutton and Sicura and is one of a handful of jump hours with light function for night-viewing. The same concept can be found in the striped Spaceman and some other obscure designs. The massive spacedesigned case is highly polished and chromed thus it's pretty difficult to find a perfectly looking piece without any scratches. You might think that the light is produced by three strong diodes but unfortunately the design is not always that practical as it seems to be. There is just one light-bulb powered with two 1,5V 357 battery cells that is activated with a button above the winding crown.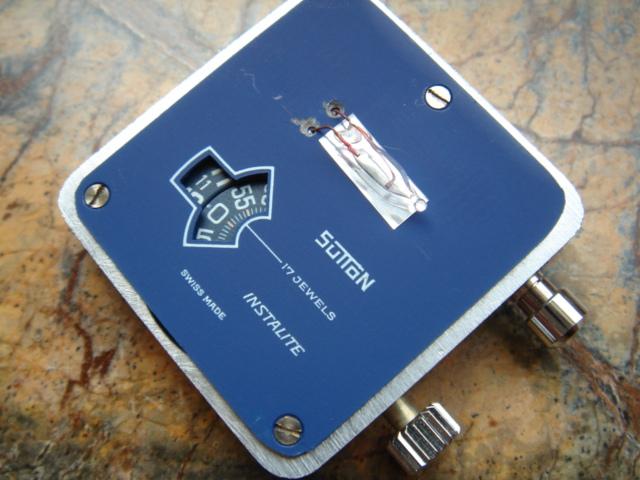 The light module is applied onto the dial and is pretty easy to repair if necessary. The bulb can be exchanged with any other small 3V type and the battery springs can also be resoldered if damaged by battery leakage. The battery covers might get mixed up so it is worth to remember that the left battery well aside the activation button must be placed negative side down whereas the other battery positive down. The movement is a simple 1j or 17j pin-lever EB8461 (smaller version of EB8488) easily found in dozens of ladies jump hours such as Nelson and Cordura. Please note the split-stem that has to be pulled out to remove the movement!
Keywords: sutton jump hour, instalite

Market value: 50-200$
(movement, light, condition)