SORNA CHRONO EB8420 CHRONOGRAPH 1975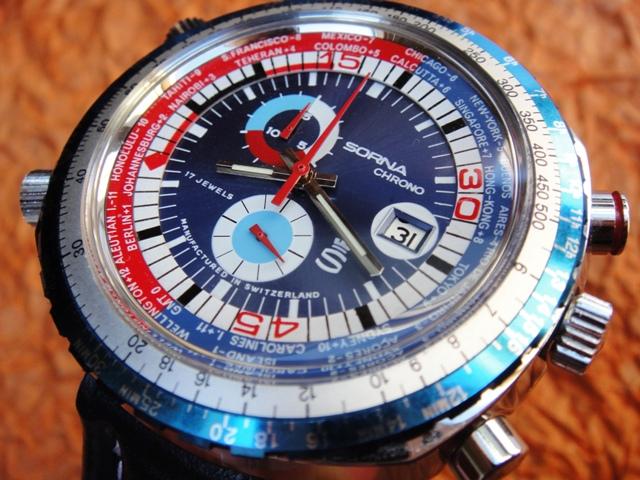 With the rising popularity of speed and motorsports in the 1960/70's chronograph watches were becoming more and more sought after. Unfortunately such complicated mechanical stopwatches were extremely expensive and the modern quartz and LCD alternatives have not yet been invented. In order to acquire the economy-oriented audience many watch manufacturers decided to use cheap pin-lever movements. The most common calibre was the EB842x calibre based on a slightly modified EB84xx found in many disposable mod and jump hour watches of that era. Such disposable pin-levers were extremely cheap and in result dozens of different chronograph watches were produced for the young and old.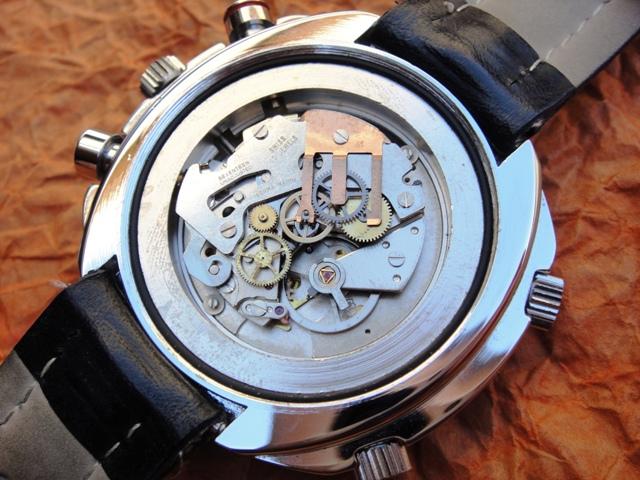 The most popular chrono from that economy range of watches is this massive Sorna Chrono also found in a bullhead design. The plated base metal case with rotating bezel and timezone ring presents excellent quality thus the disposable movement is a big surprise for those that value longevity. You will be surprised even more when you find the very same pin-lever movement in a Heuer-Leonidas chronograph! Even the reputable Heuer made mass-market watches for the poor in colorful fibreglass cases. Some Heuer and also Sorna models were even endorsed by the famous Formula1 World Champion from the early 1970's - Jacky Ickx. Watches with the Ickx brand reach ridicolous money so it's better to source the same models made for Sears&Roebuck.
Keywords: sorna chronograph, jacky ickx
Market value: 50-300$ (model, condition, box)