SEIKO 4004 SQ 0903A QUARTZ 1975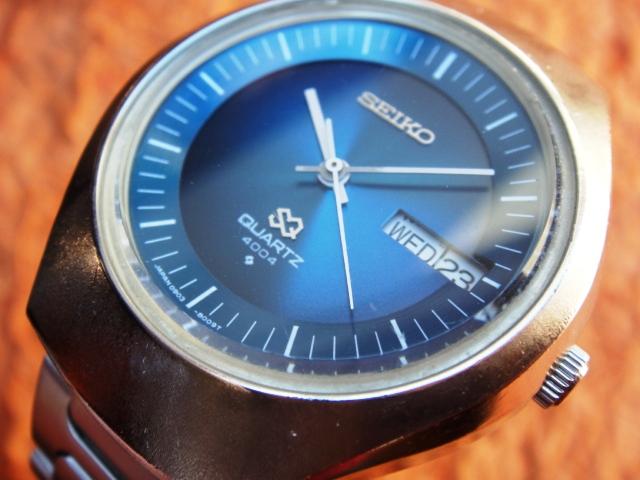 Here we have one of the last early generation Quartz watches from Seiko before they turned to mega-mass production by applying lots of (green) plastic. The 0903A calibre from 1975 has been greatly simplified in comparison to the earlier versions but still retained the traditional "watchmaking" appearance. The 4004 number is clearly indicated on the dial thus making these watches easier to source on auctions. However this is not a design code but a product line symbol that is difficult to understand. The 4004 series was available in very different case designs (either oval or tank shaped) so it's hard to say what the authors had in mind as these watches have clearly nothing in common... externally at least.
I have been trying to grab one of these for quite some time but neither of them was cool enough. Finally this blue version caught my attention and cost less than nothing. The battery hatch is always a handy feature that Seiko discontinued just a few years later when new movements no longer required a battery exchange every year.
Keywords: seiko quartz, seiko 0903A, seiko 4004

Market value: 10-150$ (model/design, condition, box)