SEIKO 3863A QR QUARTZ 1973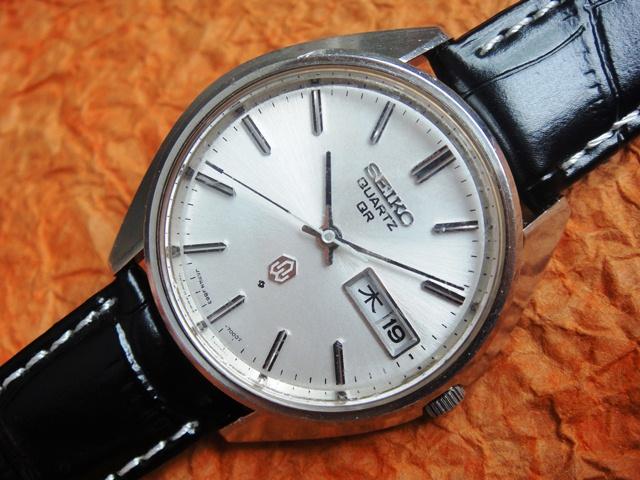 The Seiko 3863A is a direct derivative from the 3823A VFA made since 1971. This model was slightly simplified with far less time-keeping precision to make it affordable. Precision was reduced from 5seconds/month to 20 seconds while the price dropped from ¥150.000 for the 3823A to roughly ¥50.000. Compare both movements and you will not notice much difference hence the savings must have been applied to the chip circuitry and quartz purity, quality and size. Various case designs were available from classic shapes to disco dials and more of these were made than the 3823 yet still they are not that easy to find in the huge selection of generic Seiko Quartz watches. The movement is built in the same fashion and quite easy to disassemble for module or parts replacement if necessary.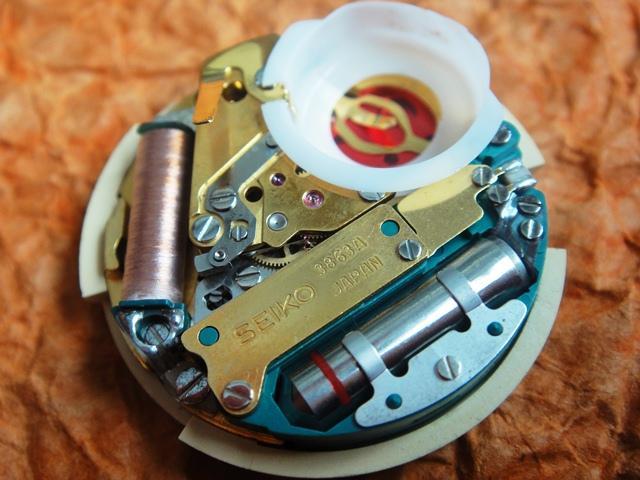 The large green plastic section has a nice quartz tube compartment on top and is secured with a safety clamp to minimize any shock. I always like to compare this Japenese high-quality craftsmanship with the American products where solder and silicone was used for assembling. The end-user never looks inside so does not see the difference but still I prefer the Japanese approach. The electronic circuitry is also applied to the green plastic with a micro-chip nicely sealed in epoxy. I was quite surprised not to find a trimmer on this movement, instead a removable resistor/capacitor is applied with screws as pictured below. Very likely each movement was finetuned with different resistors before leaving the factory allowing future adjustments only through an authorized service center.
Keywords: seiko quartz, seiko 3863A, seiko qr

Market value: 75-250$ (condition, model, box)