RONDA 32768Hz 1177 QUARTZ 1975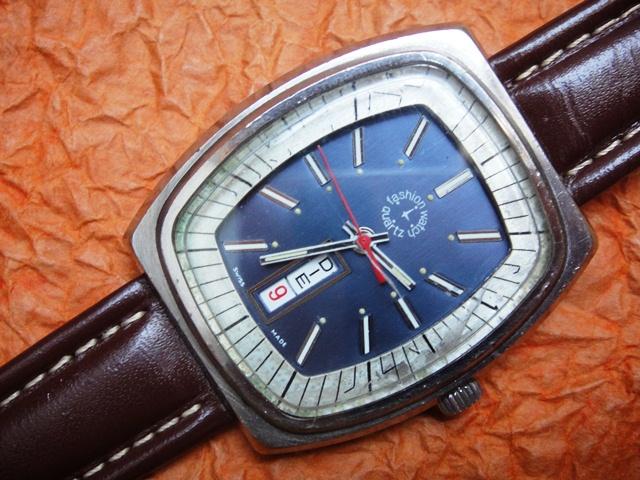 A rare sight to find a jeweled Ronda movement especially this rare version of the first quartz movement by Ronda. It's difficult to say if this 1177 is a later derivative of the 1377 movement although the calibre numbering is usually used in sequence. At a first glance you might believe that this a very early version running on 3 Volts but you will quickly notice that the two ladies batteries are installed in parallel...moreover such tiny cells were not available in 1973 when the 1377 calibre appeared. The circuitry runs on 1.5V and the two batteries only serve one purpose... to extend the period between battery exchange. That's usually a workaround when you can't use a large cell.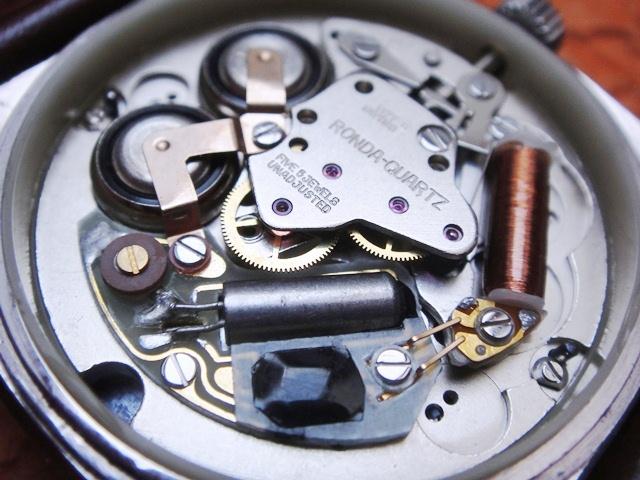 The intention behind using two batteries must have been the requirement to reduce the movement diameter and use this calibre in ladies watches but for some reason it ended up in a massive mens watch by an unknown Fashion Watch label. The external coil indicates that this really is a late 1970's invention as opposed to the early motor assembly with coil in the 1377 calibre. The motor in the 1177 has been reduced to a small green plastic gear with ferrite magnet that is surrounded by two insulated steel terminals on the movement baseplate onto which the coil has been mounted. This construction is identical to that of all modern quartz watches with applied significant miniaturization over the last couple of decades. A late version of this calibre was slightly redesigned with a large battery and metal cover applied to the coil.
Keywords: ronda quartz, ronda 1177

Market value: 40-250$ (model, condition, box)