ROAMER MICROQUARTZ MST901 1972
The Micro-Quartz is one of a few early quartz projects from 1972 born from transcontinental cooperation between the US electronic industry and Swiss watchmakers. The chip is signed by RCA and additionally the American input is clearly indicated on the caliber plate: "Electronics USA - Swiss Assembly". Pieter Doensen's database describes this watch as the first "cheap" quartz watch (what might be true judging by the plastic baseplate) however the rest of the watch shows highgrade mechanical craftmanship. The revolutionary electromagnetic escapement predates both the Omega MegaQuartz and the Rolex OysterQuartz and you can clearly hear the ticking on the ruby pallet jewels. No wonder that the Roamer Micro-Quartz is one of a few early quartz watches that is nice to look at and admire.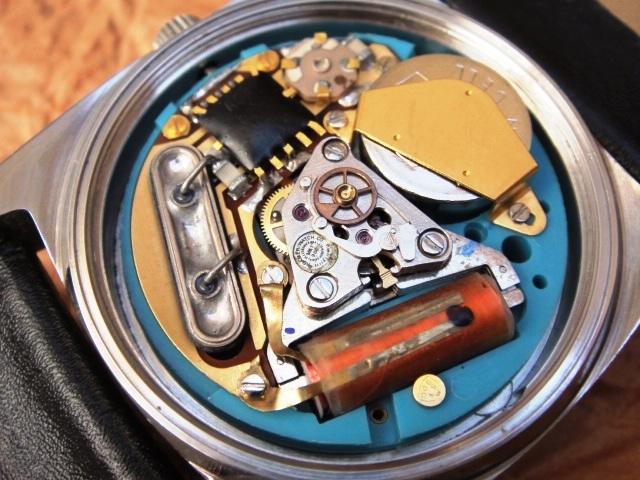 In my opinion this movement is completely bullet-proof with a long lasting escapement-motor and a smart coil secured tightly in a rubber sleeve. The electromagnetic coil is wrapped around a plastic tube with two steel terminals fitted inside thus all of these parts are easy to remove and replace if needed. The impulse from the coil activates the escapement which is fixed permanently onto a cylinder made from a permanent alnico magnet. This magnetized steel alloy might be a bit rusted if stored unused for decades but can be easily cleaned with a fibrebrush. Accidental backlash of the motor (which affects seconds) is minimized with a thin metal finger that can be properly indexed in a similar fashion as in the Accutron or ElectroQuartz.
Keywords: roamer microquartz, micro-quartz

Market value: 100-250$ (very rare, hard to find)