RECORD GOLAY FB7743 mQUARTZ 1972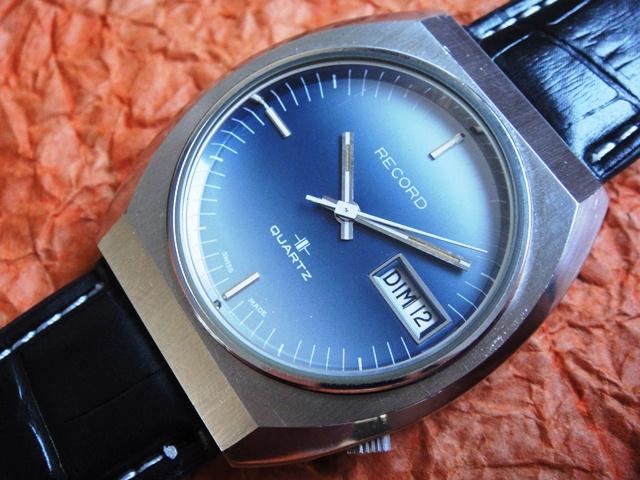 A very rare Record early transistorized electro-quartz ... the impossible to find "µ-Quartz" FB7743 calibre by Record-Golay from 1972. The technical details have been described in the Mirexal 7723 mQuartz review which is identical except the additional day of week feature. I've been told that launching the mQuartz was a failure due to technical challenges and suppliers and only some 2000 pieces were produced (without indication if that applies to 7723 or 7743 calibre). So far none of the ones I had exceeded serial number 932 (612, 632, 748). Pieter Doensen's database only refers to the 7743 calibre whereas all Mirexal versions contain 7723 and are modified under the balance with a 7723 label applied. Seems like if the 7743 was the intended product but later modified to decrease costs when technical problems occurred.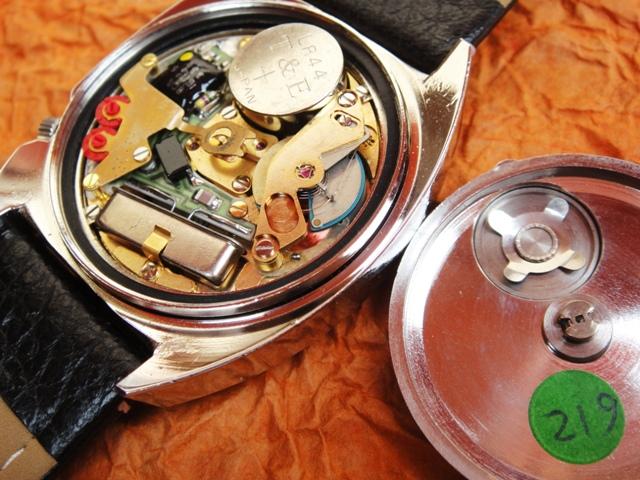 The same watch (with FB7723) was also sold with an obscure Super Barrett brand that I found totally by accident as it was described as Electric without even using the word Quartz! The watch quality is top-shelf with an all-steel case of modular build with a "capsule" press-fitted in the external bezel. Such constructions are usually held together with pressure from a tension spring or rubber gasket which tends to dissolve with age. The one has been fitted with a durable teflon-type tension ring that holds the bezel and case firmly and can be easily removed without much effort. The watch is large and heavy and looks very cool even today, but as with the Mirexal I just can't understand why the designers applied a crown to change the date. The design would be much much smoother with a button!
Keywords: record golay, barrett quartz

Market value: 250-500$ (extremely rare, impossible to find)