PULSAR P4 EXECUTIVE TIME COMPUTER LED 1975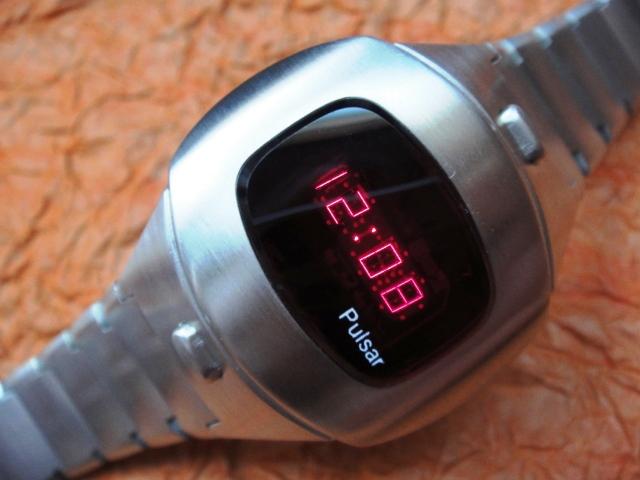 "The P4" was launched in mid-1975 with three different designs of which this "Executive" remains one of the favorite Pulsars around. The P4's were fitted with completely new 401 modules with bar/segment-displays that were the first technological upgrade from the P2/P3 concepts from 1972. You will find similarities between P4 modules and Sanyo modules (fitted to many Compuchrons and Chonosonics) because production was subcontracted to Japan. The modules contain the phrase "Made in USA" so it's hard to tell from when exactly and in which percentage they were made locally or assembled in the US?! The setting-magnet for the P4 series is half the size of the earlier P2/P3 type and fits nicely in the clasp. Late Swiss cases had HR and MIN marks printed and not indented thus they might lack these markings due to wear.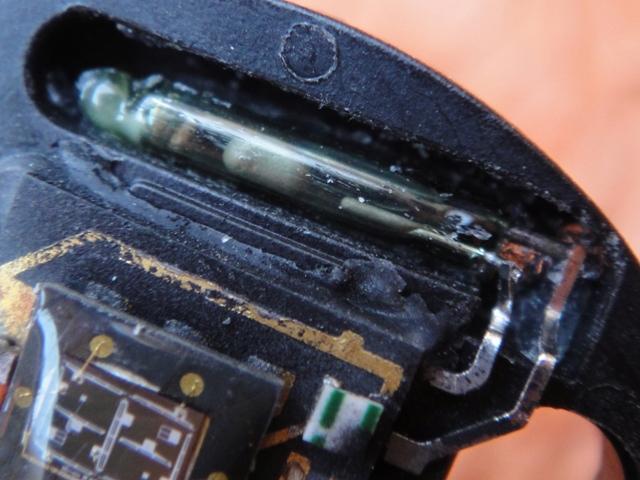 The P4 is also the first to feature an Auto-Command function enabling the user to activate the display with a rapid flick of his wrist (nicknamed flick-wrist). This option is convenient to use when the other hand is busy :) The whole idea behind this invention is a mercury (inertial) switch - two wires encapsuled in a small glass tube filled with a drop of mercury which disconnects and connects both wires when moved rapidly. This rapid connection gives the logic chip and impulse to activate the display automatically. A few months after the initial launch a convenient Auto-Set feature was added that no longer required a magnet for setting. The new 402 modules can be tapped 3 times in a row to activate setting mode and thus lack two reed-switches although the plastic holders remained unchanged.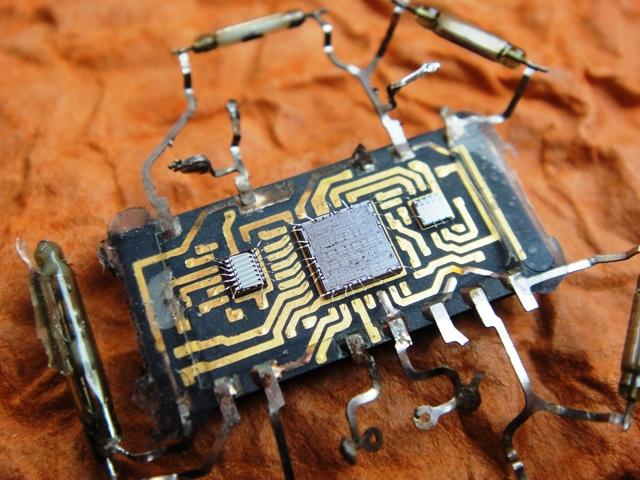 Pulsar was not the only one to have applied such an automation as another LED watch "Reflex" by Gillette enabled the user to display the time without pressing a button. Pulsar's solution is however more advanced and precise. But despite being advertized as space technology a P4 module is far from sexy in design terms. The circuit board is covered with a plastic cover and affixed with glue to the black or green plastic carrier/holder. The rest consists of a quartz tube, reeds and few wires. Not so sexy (IMO). It's just hard to describe a piece of plain plastic with a few loose wires as... breathtaking. Compare this rather garage-style construction to 1974/75 Japanese LCD's or Swiss LED's that present high-grade craftsmanship, technology and appearance. I love LEDs and Pulsars but won't you agree that Pulsar was obsolete by 1975?
Keywords: pulsar led, pulsar p4, executive, pulsar digital, time computer
Market value: 100-650$ (condition, box)