PULSAR P4 CLASSIC TIME COMPUTER LED 1975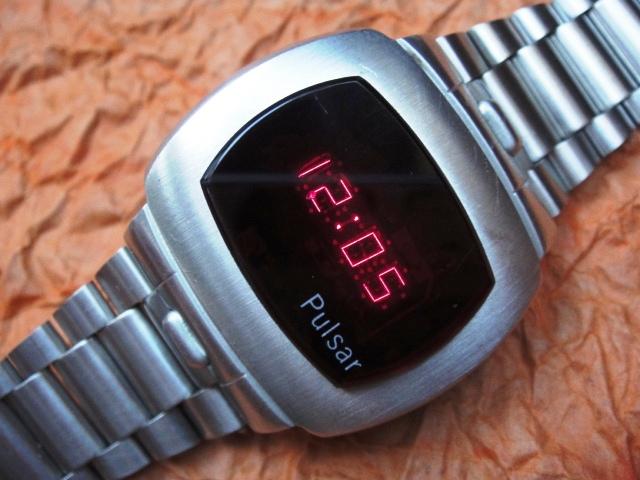 The "Classic" is a simple re-issue (more or less) of the P2 in a P4 format released in mid-1975. The crystal is the same size as in the P2 but the case is slightly smaller with the command buttons in the center instead of the sides of the case. These buttons are not really user-friendly if you wear watches without a tight fit as you need to use two fingers to hold the watch and press the button. The bracelet seems identical to the P2 but it is slightly narrower however spare links can be used from the earlier P2 (with some minor width differences). Resemblance to the P2 makes the Classic the least favorite on my list of Pulsars as I hardly own any doubles in my collection. The size of the watch makes it also less "sexy" than the larger brother. The only bonus is the flick-wrist feature in the P4 module that is always handy.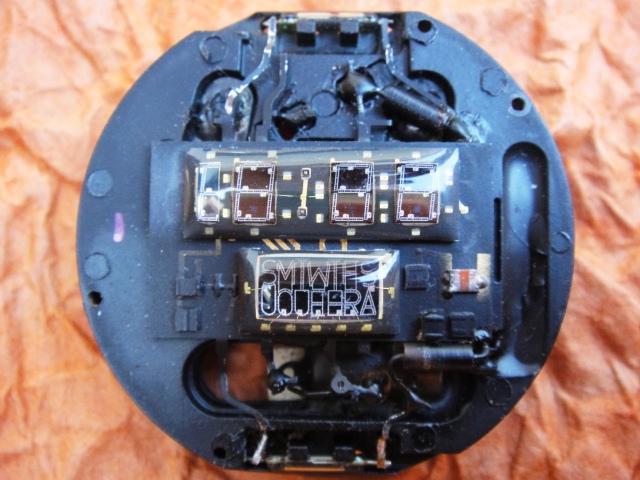 The "Classic" was available with auto-set modules 402 and 403 with DOW (Day-Of-Week) as pictured to the right. The plastic carrier no longer required indentations for setting switches. The substrate was enlarged and fitted with an additional and unusual day display as opposed to the rather common combined alphanumeric displays used in late Frontier modules. The bottom side of the substrate is shown enlarged above next to a 401 and 402 to give you some comparison. The difference is not that big as there is only one additional DOW driver component and slightly decreased main chip. Pictured below for your viewing pleasure are microscope pictures of a 402 circuit where you can clearly see a production date of 1975 by Nortec of USA, a leading chip subcontractor for Pulsar and other makers.
Keywords: pulsar led, pulsar p4, classic, pulsar digital, time computer
Market value: 100-650$ (condition, box)