ORIENT TOUCHTRON LED 1975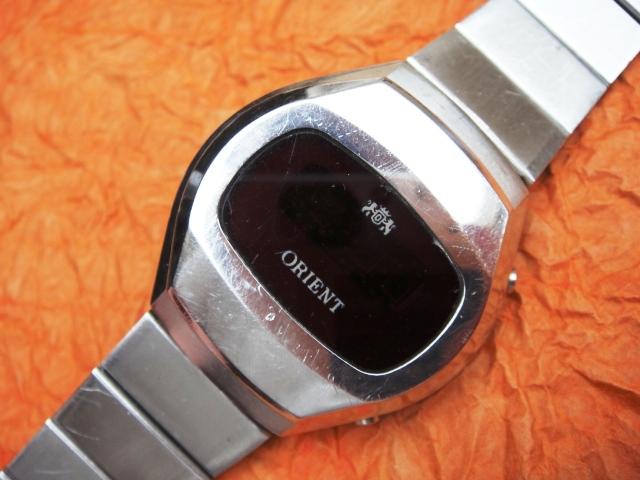 Orient LED watches are scarce as hens teeth and can be occasionally acquired from Far-East and Japanese sellers. Orient and Citizen were always in some kind of joint-venture and their technologies were pretty alike. I have seen the same watch as Citizen but these are 100% Orient watches rebranded for different markets. The watch is called "Touchtron" and is activated by simply touching the bezel (top of the case) which is insulated from the main case body with a black plastic layer (as shown below). The module is fitted with a rubber-graphite conductive pin (above the display) that touches the bezel. The human body acts as a conductor - the wrist is connected with the caseback while the finger touches the bezel closing the circuit and displays time.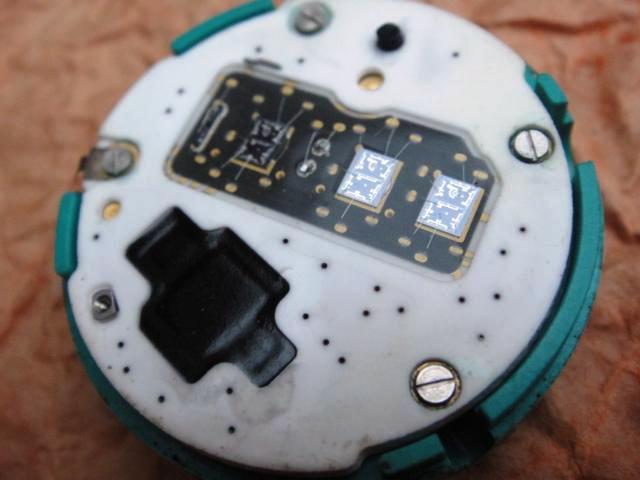 The technology and quality in Orient LEDs is quite amazing and high-tech in 1970's standards. The double (or triple) layer ceramic substrate has a clean layout with large diodes nicely sealed with silicone (not just a random blob like in other makes). The quartz crystal is held with a special clamp to reduce shock and the complete assembly is smartly encapsuled in the plastic carrier with four screws. The conductive rubber pin on top of the substrate must provide perfect connectivity with both the substrate and the bezel. It is loose and might be missing but can be replaced with a metal spring from any other watch. There is another cavity just below that pin and I'm sure that a second rubber pin should be fitted in that place. This watch is completely dead thus any hints regarding the Touchtron will be appreciated to make this review complete.
Keywords: orient led, touchtron

Market value: 100-500$ (model, condition, box)