OMEGA 1250 SEAMASTER CONE f300Hz ACCUTRON 1970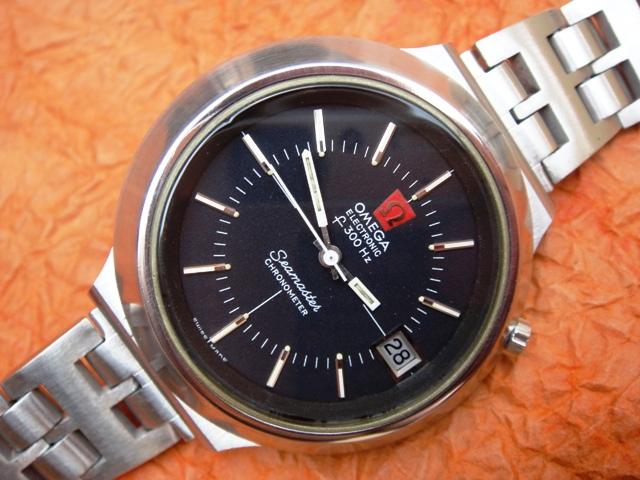 The "Cone" is the most sought after Omega tuning fork featuring an ESA9162 movement marked as calibre 1250. The popularity probably results from the cool cone design however the Seamaster trademark also increases demand among collectors. A few very similar versions were made with different lugs and bracelets and standard or assymetric crown position as pictured. Some early models had Electronic Chronometer branding instead of the Seamaster emblems but they are all alike. The case has a modular construction and consists of five pieces: body, cone bezel, caseback, crown-tube and a screw-down ring that holds the waterproof body and bezel together. Case restoration is quite difficult as the bezel+body+ring are usually glued together therefore some heat or bath in boiling water might be helpful in the unscrewing process.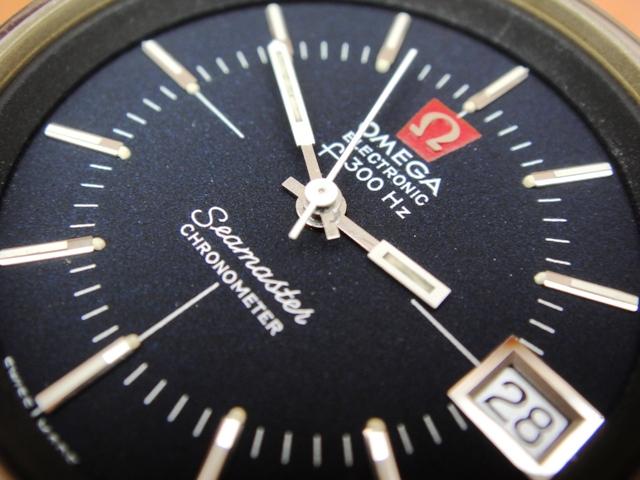 The "Cone" should have a vertical satin finish on the bezel so the blue model pictured in this review has not been restored to full specs. It does look great but the proper grinding finish would look even better. The grey Chronometer version pictured above shows proper graining in unrestored condition. An excellent restoration process by my favorite Electrician from the UK is available online - click here to see a step by step guide. The navy blue dial shown in this review is nearly impossible to find in decent condition due to poor quality of paint used in the production process. This piece must have been stored in a dry environment as the paint is usually "corroded" to some extent with ugly bubbles all over the surface. Surprisingly such extensively aged dials also have their fans and sell pretty well if only the color has remained.
Keywords:
omega electronic, f300Hz, f300,
cone, seamaster, tuning fork
Market value: 150-450$ (condition, box)