OMEGA 1230 MEGASONIC f720Hz ACCUTRON 1973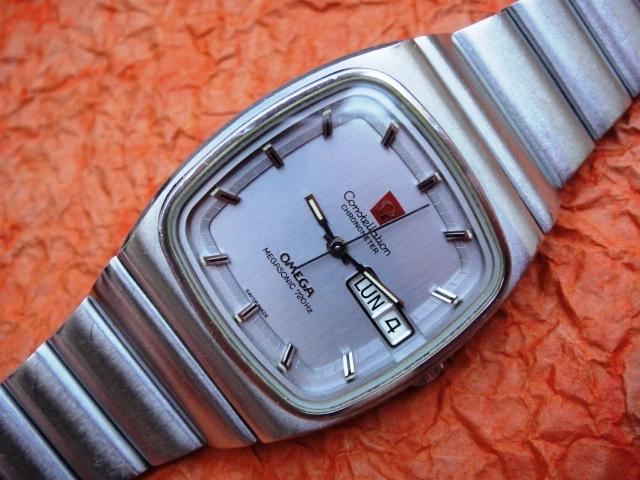 The Megasonic from Omega launched in 1973/74 is the most advanced tuning fork movement ever made. The concept was created by Max Hetzel who left Bulova and created the earlier ESA9162/62 calibre which still required patent approval from Bulova. In order to bypass any patents the Megasonic was fitted with an assymetric tuning fork oscillating at a frequency of 720Hz. The explanation behind the odd shape of the fork is reduction of power consumption which must be true as they do not eat batteries that easily. There are also no pawl or index fingers that transmit vibrations to the gears. Instead a micromotor was permanently fitted to one of the tuning fork tines that transmits torque without any mechanical contact. A detailed technical abstract from the servicing manual has been described by Rob from Oz here.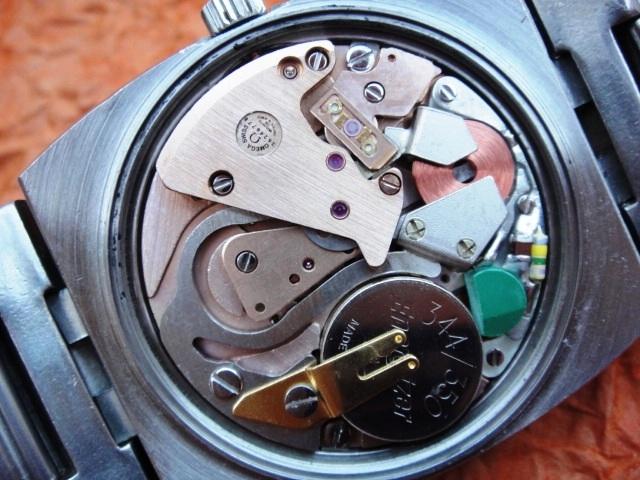 The motor is microscopic and consists of a magnetic index wheel (with four ruby bearings) which is moved by two ruby-tipped fingers and secured in place by two ruby bankings. All this is filled with oil and encapsuled firmly and thus not repairable. The index wheel is polarized perfectly against another coupling gear in the train which rotates accordingly with each motion of the tuning fork and index wheel. Due to the magnetic features of these vital parts it is important to disassemble the 1220/30 calibres in a certain sequence and never allow the small magnetic wheels to come in contact with the fork or any other magnet. This would demagnetize them permanently leading to inevitable damage. Enjoy the 200x magnified pictures as you will probably not see them in this size anywhere else.
Keywords: omega 720Hz, megasonic
Market value: 150-750$ (version, condition, box)