MIREXAL GOLAY FB7723 QUARTZ 1972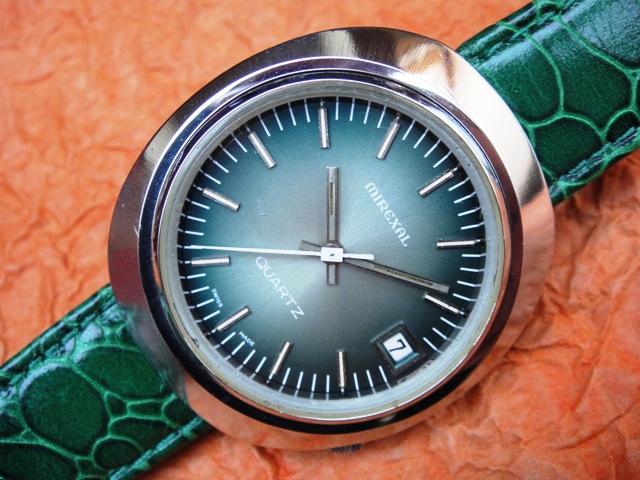 Based on Pieter Doensen's database the Record-Golay µ-Quartz FB7743 with day-date was introduced in 1972 by the high-end Corum of Switzerland in a solid gold case. This FB7723 (with date only) was made in only a few thousand, shown here in a chrome-plated Mirexal - a private watch label of the largest Swiss retail-chain Migros usually manufactured by Mondaine (also sold as M-Watch). The movement is a one-of-a-kind invention based on a traditional transistorized electrobalance stabilized by a quartz controlled electronic circuit which applies a pulse precisely once per second. This totally akward concept is yet another early 1970's approach created from the intercontinental cooperation between Swiss watchmakers and the booming US electronic industry (RCA chip).
The modular construction appears to be complex but there is only a mechanical baseplate with electrobalance while the electronic module is nicely fitted onto a ceramic substrate containing the chip, quartz and strange red trimmers. The contact plate fixed onto the trimmers goes all the way to the center of the movement where the setting stem is located. Every time the crown on the caseback is pulled out the contact plate is disconnected and stops the movement. This concept was removed already the same year thus these watches are extremely rare. The traditional crown at 4 does not really belong here as it is only used to change the date. It could have been replaced by a push-button what would certainly improve the design. It can be pulled out with the stem which is fixed with a click (there is no locking screw nor pin).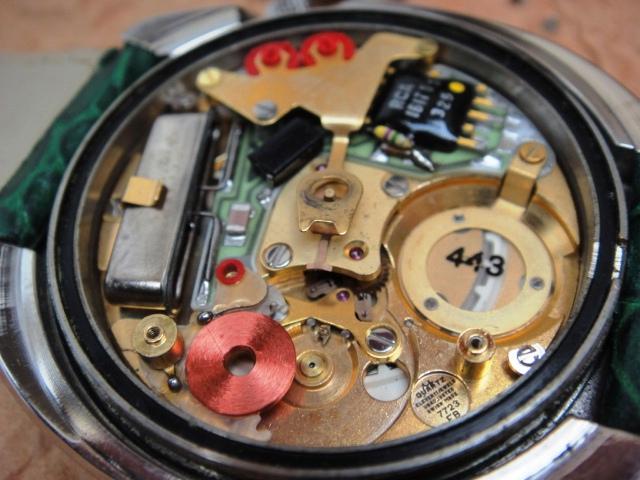 The real strangeness of this movement increases as we go deeper. The escapement arbor is weird as it has flexible "shock-resisting" pallets. This was perhaps necessary to improve reliability of the 28.800 beat movement with sweeping seconds. The red adjustment trimmers are another weird invention - they contain 2 graphite legs that are turned and connect either one, two or more resistors on the ceramic board. This is a larger but easier solution similar to removing adjustment screws on the Accuquartz and Ultra-Quartz. Hint: 1) Disassembling the balance requires unscrewing a golden screw near the coil and lifting it or sliding it when movement is removed from case. 2) If you can't set the hands observe the tiny setting gear on the caseback (inside the case) - it has to be loose and placed with correct side.
Keywords: mirexal quartz, record golay

Market value: 250-500$ (extremely rare, hard to find)