MEMOSAIL VALJOUX 7737 REGATTA CHRONOGRAPH 1970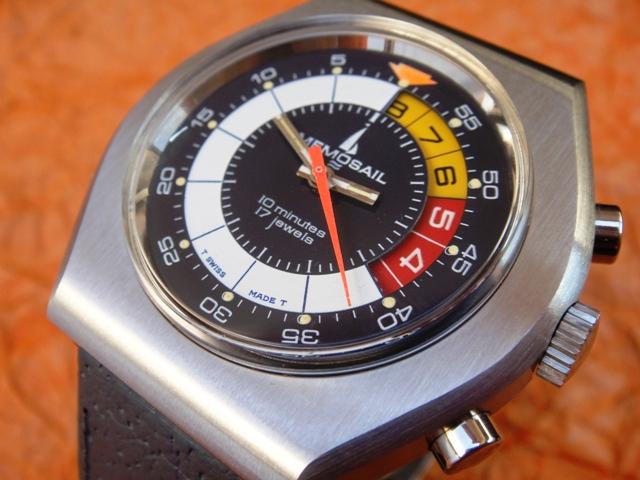 The "MemoSail" is an extraordinary chronograph introduced in the early 1970's for yachting purposes. It is a regate (regatta) type of wristwatch used in yacht racing and it was a direct competitor for "AquaStar" watches that used a slightly different idea for counting time. This concept is still produced today by the followers of the MemoSail - the MemoTime company. A few designs were made and some models were branded as V.I.P as shown in this particular example. The vintage rubber strap is somewhat unusual as it looks like genuine leather with see-through holes for stitching. The main application of the MemoSail is to track elapsed time while getting a yacht ready to sail. At the beginning of the preparation stage there is a warning siren or bell and that is the moment when a MemoSail user should activate his chronograph.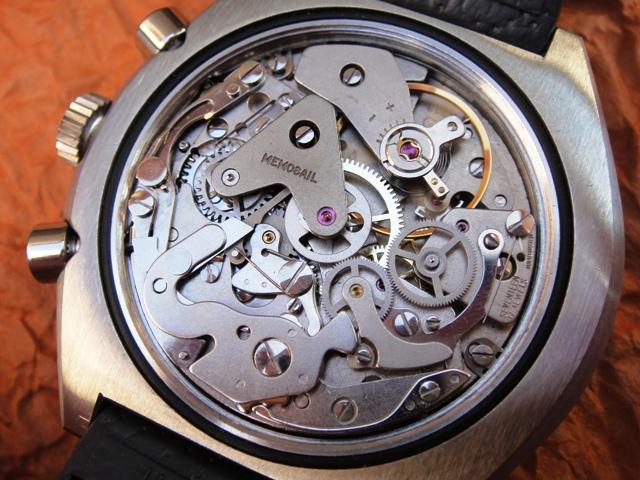 The seconds hand starts counting and a plastic minute-disc under the dial makes a half turn every 30 seconds. The first 10 to 6 minutes are yellow and then change to red from 5 to 1. Once 10 minutes have elapsed a START sign appears indicating that the race can begin. Each letter of START is equal to 1 minute thus the watch can countdown 15 minutes in total. The MemoSail might be used in other fields of life as long as the 10 or 15 minute count-down is not a limitation. A very detailed review on the working principles of the Valjoux 7737 can be found here by Richard Askham from the UK. The movement is a slight modification of the popular 7733/34 calibre thus parts are easy to source unless you need the untypical 30 second center wheel, dial with large window or the count-down acrylic disc with printed minutes.
Keywords: memosail, regatta, regate, chronograph, valjoux 7737

Market value: 200-500$ (model, condition, box)