LUCH 3055 ELECTRO QUARTZ 1981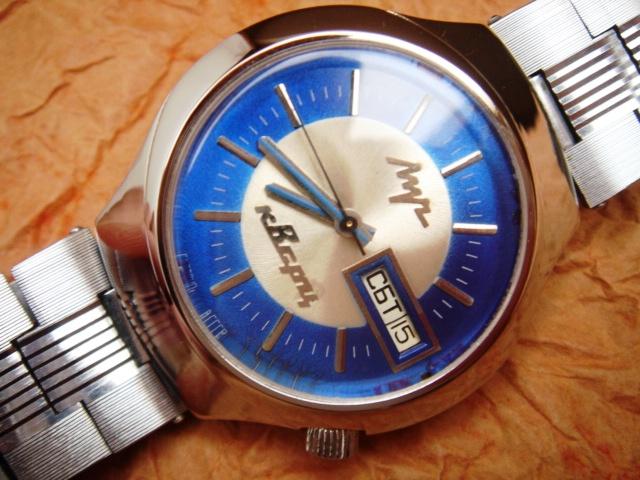 This Soviet relic is a rare example of an attempt to produce a quartz watch without using stepping motors. Not much is known about this 3055 calibre but it must have been derived from the earlier 3045 transistorized electric copied in the mid-70's from the Ato-Chron by Junghans. Based on Pieter Doensen's database and date codes on quartz tubes (from more than a dozen of these watches) I can confirm that it was produced from 1981 until late 1983. What makes this watch totally weird is that the Russians already had a working 3050 stepping motor in 1979 made by the First Moscow factory. This 3055 was thus very likely an attempt to squeeze the maximum (like Timex 63 with the electric-quartz) from a completely obsolete technology by transferring the electro-mechanical production line to a secondary factory in Minsk.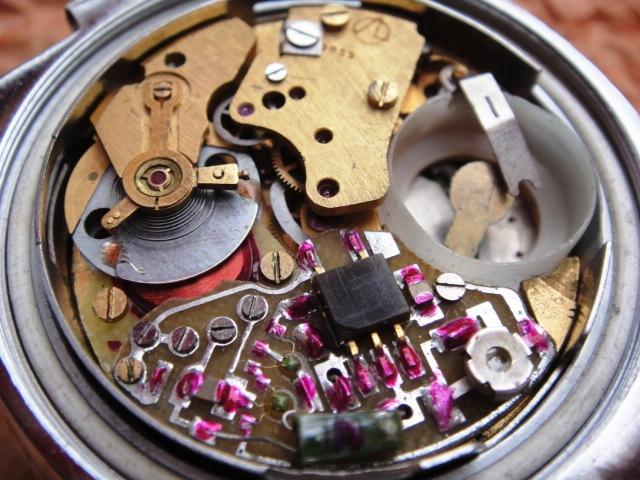 The movement can be usually found in Luch watches but other brands such as Raketa or Poljot might also be available (Luch was one the prestige export brands of the USSR watch industry). This electro-mechanical-quartz concept (as described on the caseback) was an shortlived innovation of the electric-to-quartz transition period and only two or three other makers used this stepping motor workaround (Timex 63 Quartz and a very rare Record Golay 7723 fitted to Corum). As seen on these pictures a few minor modifications were added during the production lifecycle. To prevent backlash of the sweep seconds hand a large jeweled pawl/index finger was added in some early examples. Once installed it is additionally "indexed" (as in the Accutron) by means of two screws on the top plate.
Keywords: luch quartz, luch 3055

Market value: 50-150$ (version, condition)