LIP R184 DATOLIP SUPER NAUTIC-SKI ELECTRIC 1973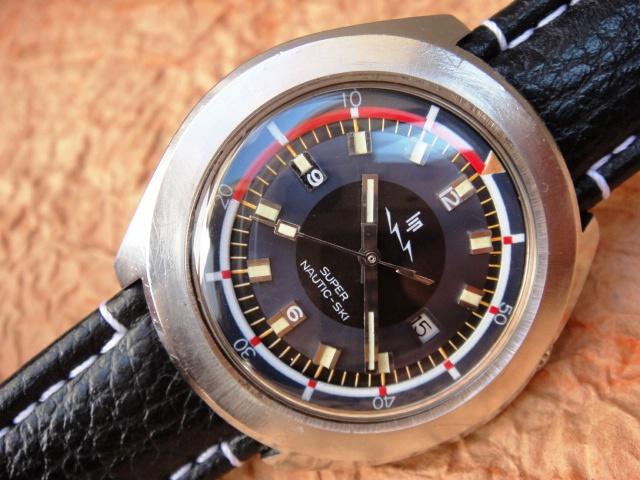 "Nautic-Ski", the Worlds first electronic watch for divers was introduced by LIP in 1967 and fitted with the date version of the R148 - the "Datolip" R184 calibre. This "Super Nautic-Ski" is the next generation (made approx. 1972-76 just prior to LIP going bust) that was significantly enlarged by hidding the crowns within the case. Both versions have screw-down backs and are extremely robust and super-waterproof to 200 meters (666 feet/20atm). This result has been surprsingly achieved without screw-down crowns with the expertease of EPSA (E.Piquerez SA) a renowned supplier of superior Swiss watch cases. The super-waterproof case is called Super Compressor and features a respected trademark of a deep-sea diver helmet. The same Compressor technology was used for the IWC Aquatimer and other top-shelf makers of that era.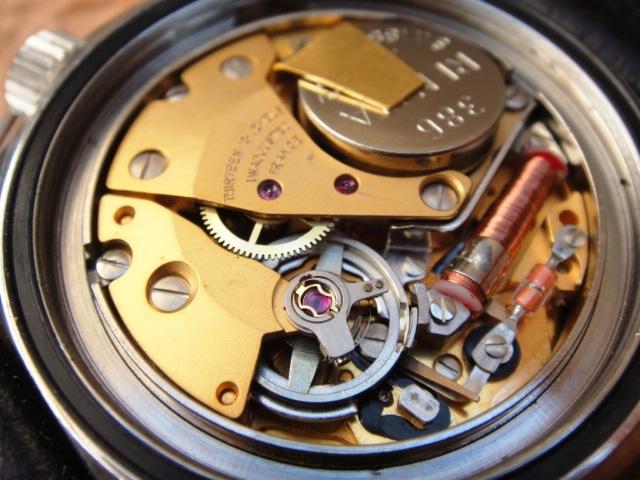 The Nautic and Super Nautic-Ski were the only battery-operated deep sea watches in those days. They are considered as holy grails in the diver world and especially in France and reach sky-high prices never to be expected for any other watch with a R148/184 calibre. This respect is the result of celebrity endorsement.... by... (who else!) Jacques Cousteau and his expedition crew. Browse the web for some celebrity shots. Btw. the same watch can be found cheaper as Waltham or even Benrus Ultra Deep. For safe opening of the super-tightly affixed screw-down caseback a custom made or original 14 side wrench is highly suggested (approx. 30.9mm inner width). Original crowns with inner plastic sealings are essential to achieve proper tightness so in case you need a spare I suggest searching for other Compressor cases by EPSA.
Keywords: lip nautic-ski, super nautic-ski, lip electric
Market value: 150-500$ (early or late generation, condition, box)