JAEGER LE COULTRE GP352 MASTER-QUARTZ 1972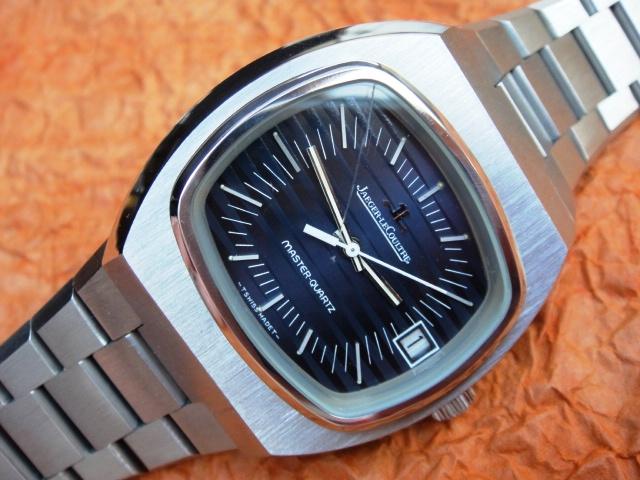 The "Master-Quartz" by JLC is the top range of early Quartz watches fitted with the GP352 movement by Girard Perregaux. The entire project was co-funded by both of these companies with all the work performed inhouse by GP. It seems that Jaeger Le Coultre made the proper choice of creating a joint-venture instead of joining the Beta21 project by CEH. A few versions were made but this case-type was exclusive to JLC. It consists of 7 parts: movement with spacer-ring is fitted into a plastic (bezel) holder with crowntube. This holder is pressed into the outer steel case. These parts are then covered with a glass crystal on top and dust-cover and caseback on the bottom... and these in the end are secured tightly with two rings. Pretty complicated and totally over-engineered. The bracelet is a common high-grade Swiss type.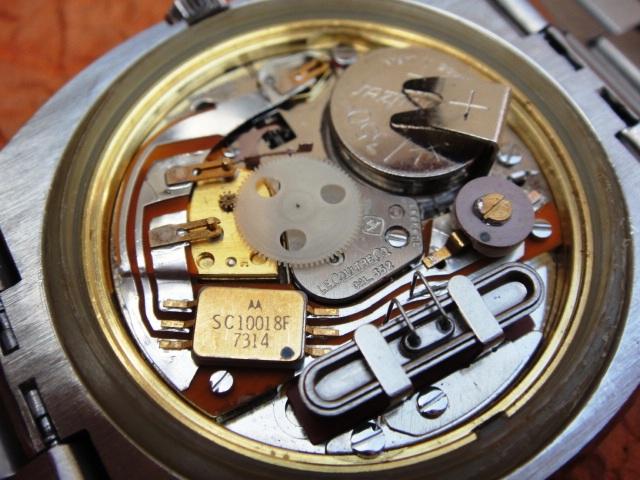 The GP352 (or 353) movement is identical in all of these watches from Girard Perregaux, Jaeger LC and Favre-Leuba but Pieter Doensen's database is incomplete. Peter Wenzig has pointed out that this movement was also used by... Breitling... who had to fill the gap in their portfolio with such a breakthrough technology in order to follow market demand. The gutted movement is shown below and is very easy to disassemble. The electronic module is simply press-fitted with clamps to corresponding posts on the motor and hacking pin. Hacking is performed in two ways with a mechanical plate which stops the plastic seconds wheel and also with a pin at the stem which disconnects the electronic circuit. The movement is clearly signed "No jewels" but I would certainly advertize the breakthrough approach of applying self-lubricating teflon bearings similar to those in the Tissot Astrolon. No oiling ever!
Keywords: jaeger le coultre, jaeger quartz, jlc, master-quartz

Market value: 150-850$ (condition, box)