HOGA DIRECTIME BASCHMAKOFF JUMP HOUR 1975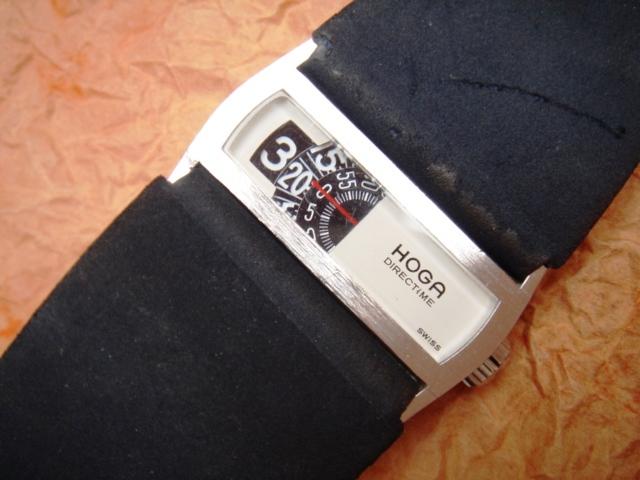 The "Directime" is a top quality jump hour with a high-grade AS1901 automatic calibre. It was available in a few designs and marketed under different watch brands including Hoga, Damas, Lip, Vulcain. The most popular and collectible are watches designed by Francois de Baschmakoff for Lip approximately in 1975. I have seen very similar or identical watches branded by other manufacturers so it is very likely that the design was exclusive for certain markets or countries to decrease production costs. Due to big Lip-nostalgia in France these watches reach ridiculous prices. Recently counterfeit Directime watches have appeared on the market and sold by an eBay member from Spain. These cheap modern Chinese replicas have no jumping functionality! For some reason the seller is fooling everybody by offering them as "vintage" (genuine) Damas ?!
The AS jump hour movement is based on a standard analog calibre modified with a spring-lever for stopping the hour-disc in proper horizontal position when the pinned edge of the disc reaches the lever. A special hairspring is responsible for gathering power (after a quarter rotation - check pic) which is released when a finger on the minute-disc pushes the spring-lever. The hour-disc and hairspring are loose but held in place with a plate fixed onto a post mounted to the hour pinion. Heavily used movements might have issues with proper jumping functionality either due to misalignment of the spring-lever, broken "hairspring" or due to extensive wear on the disc pins that slip out of the reach of the lever. The lever can be adjusted (tensioned or moved) with two screws on the edge of the base plate but the worn pins on the disc will have to sharpened one way or another.
Keywords: hoga, directime, lip baschmakoff, damas jump hour

Market value: 50-150-300$ (non-brand or Baschmakoff version, condition, case)