HAMILTON COUNT-DOWN CHRONO-MATIC 'ECHO' CHRONOGRAPH 1975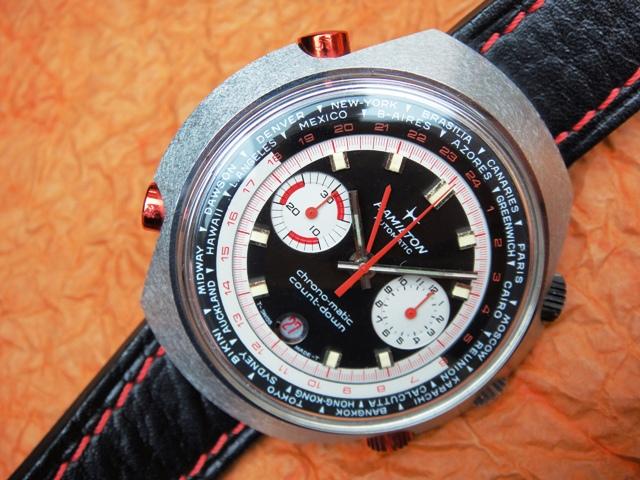 The rare Hamilton "Count-Down" GMT Chrono-Matic is a watch worth killing for :) Although officially called "Echo" (in the instruction manual) it has no association with the military nor NASA. Some rumor has it that the "Count-Down" was supposed to be the official pilot watch for NASA who decided in favor of the Omega Speedmaster. This is total bull however this particular watch was acquired directly from the first owner who was a NASA test pilot and bought it for half-price because the Count-Down was targeted at pilots in Hamilton's private marketing campaign. The watch is huge (48mm) and features a modified Chronomatic calibre 14 with additional GMT hand and two crowns used to rotate 24h and time-zone bezel rings.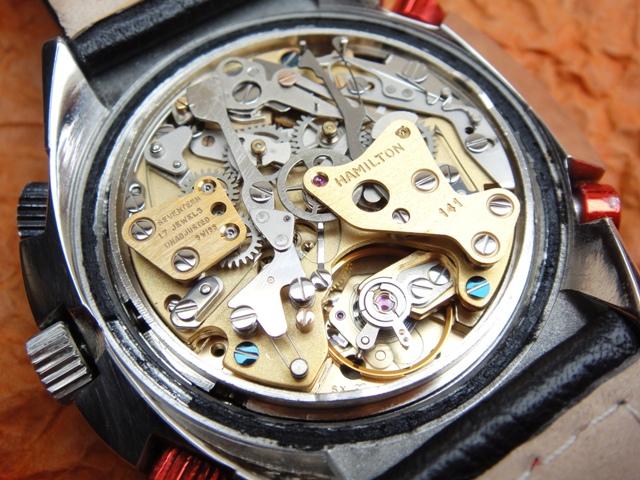 Finding a Count-Down is such a great condition (with original strap with holes) is a challenge especially without significant wear to the anodized red and black buttons and crowns. The original box is very hard to come by although it's a popular Hamilton box from 1974/75 found with Hamilton LEDs such as the QED2. There is however a huge difference to simply use such a generic box as the inside should be marked with a small Count-Down tag stating "Chronograph & Stopwatch, 300$". PS. Don't be surprised with a deteriorated gasket in a Count-Down as many watches from the 1970's were fitted with poor quality rubber gaskets that have dissolved over the years.
Keywords: hamilton count-down,
chrono-matic, echo, chronograph
Market value: 1300-2500$
(condition, box, very hard to find)