GRUEN ELECTRONIC SWISSONIC ESA9159 JUMP HOUR 1975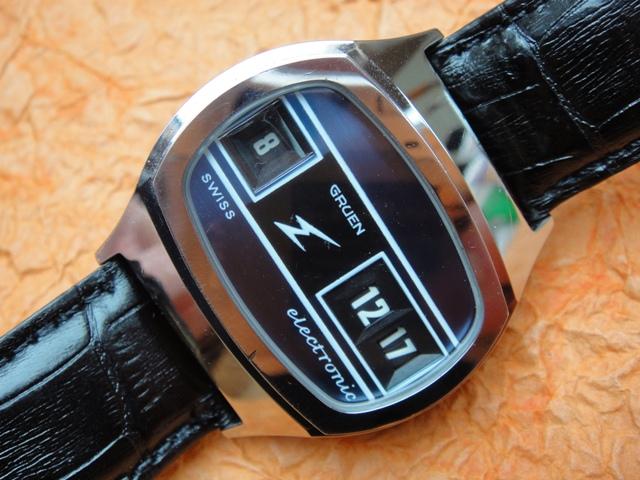 The reputable Gruen Watch Company ceased to exist in the 1950's/60's but the brand was sold by the family to market other enterprises. Not much is known about this Gruen Electronic but the large "E"lectric logo can be found on a few transistorized watches with PUW or ESA movements. The Gruen utilizes a common ESA9157/58 movement modified into a 9159 calibre by applying a jump hour module. As far as I'm aware this calibre was exclusively made for Gruen just like the ESA9176 for Derby Swissonic. In my collecting history I have only seen two of these watches of which the first is pictured here and the other one was a parts movement. It can easily be referred to as the rarest of all jump hours and transistorized electrics ever produced.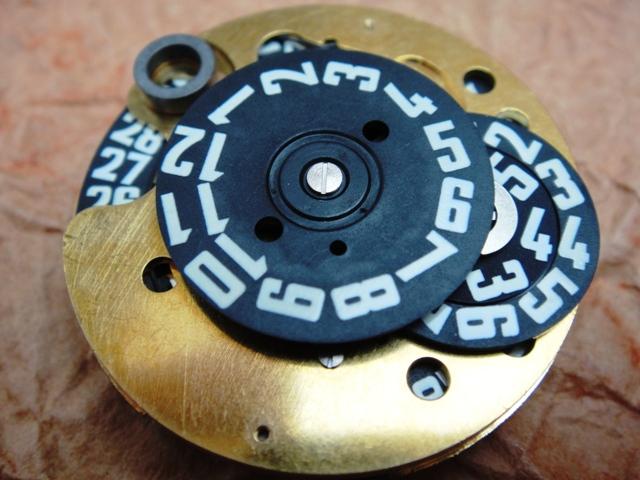 But it's not just a jump hour! It's also a rare jump minute like the Derby. The last time mechanical digitals had jumping minutes was when Pallweber invented his pocketwatch in the XIXth century! The jumping module (including date) is a bit complex and adds thickness to the watch which totals at 18mm! The entire set consists of discs and gears and long spring-loaded counter-weight. Taking pictures during disassembly makes work a lot easier :) There is not much that can break in this jump hour module what makes this watch very durable, especially that parts from the base 9158 calibre are very easy to find. Occasionally NOS factory packed 9159 movements can be found on eBay from vacheron_nl but please don't bother paying more than necessary because they do not contain the jumping module (no gears, no discs).
Keywords: gruen jump hour, gruen electronic, swissonic
Market value: 300-800$ (condition, box)