ENICAR AR320 SUPERQUARTZ 1975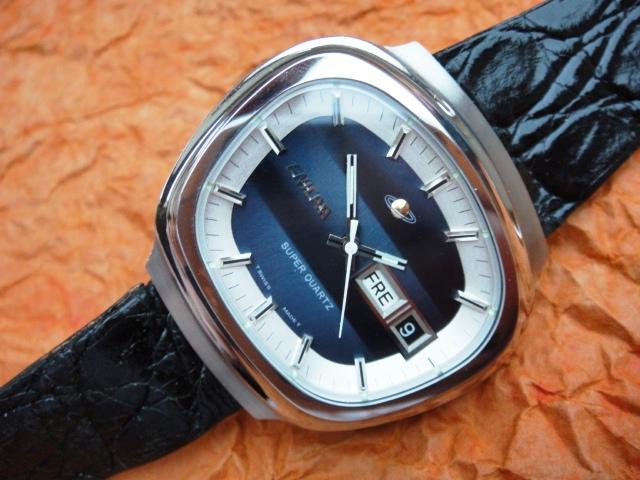 A SuperQuartz by Enicar from 1975 with an inhouse AR320 movement very likely based on a manual wind calibre. Enicar established by Ariste Racine (enicaR) used to be a true manufacture with their own robust movements signed AR. This quartz calibre must have been one of the last that ever left the factory as the company went bust in those days and today exists as a label only. Pieter Doensen's database does not contain much information only that the small stepping motor was produced by Socrem the company that also made motors for Girard Perregaux 350 and "White Shadow" from Universal Geneve...and apparently also for Bulova 242. The blue version is in NOS condition and shows pure 70's Sherpa-design with assymetric case and even more assymetric strap.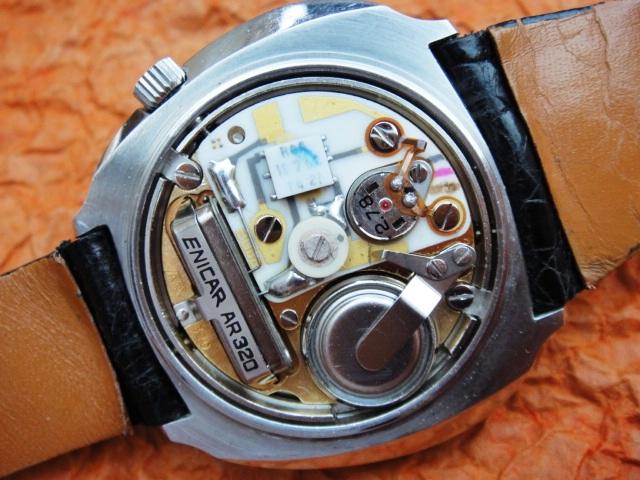 Unfortunately the other burgundy model has been canibalized. The exposed (ceramic) Integrated Circuit by RCA must have been chipped away by accident which is not that difficult to achieve if you push your case-knife just a bit to far. While opening the back I can suggest placing the knife at the lugs for best leverage and safety. A 344 battery is inserted with the positive side down and secured with two springs that do not need to be fully unscrewed. The battery springs connect the negative polarity directly to the ceramic substrate and motor stamped with a date code (ranging from 1975 to 1978). The inhouse SuperQuartz is one bloody scarce watch so spare parts are impossible to find unless some gears from a mechanical base calibre can be used?
Keywords: enicar quartz, superquartz
Market value: 100-350$ (condition, box)