ELGIN TIME CAPSULE BOWMAR LED 1974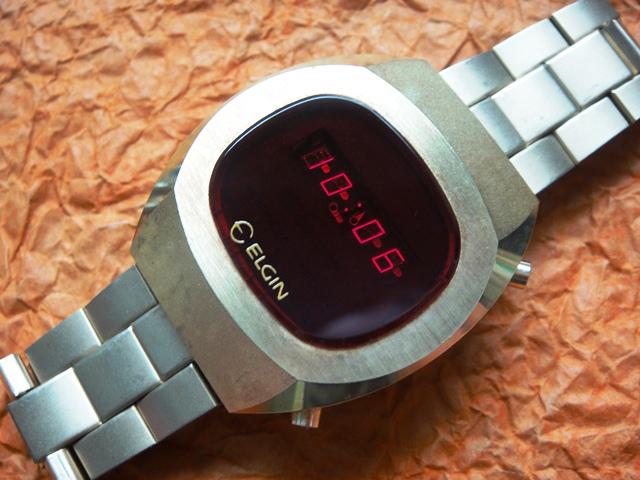 "A new generation of electronic dependability". A nice and rare surprise from the revived Elgin label is this 'Time Capsule" LED, a sibling of their LCD watch from the same year as shown here. Moving ahead from 1972 when Elgin used Uranus modules this piece was fitted with a quality Bowmar module which is not that common to find even in a Bowmar watch. The build is nice and clear with large diodes wire-bonded with gold to the substrate and all chips covered with silicone and then the whole board dipped in some kind of lacquer for wire-bond durability. This was a good solution if you compare it against many non-sealed modules from the 70's however once a bond is loose further repair is quite challenging. In this case the lacquer is quite thin and can be scratched away if proper care is applied.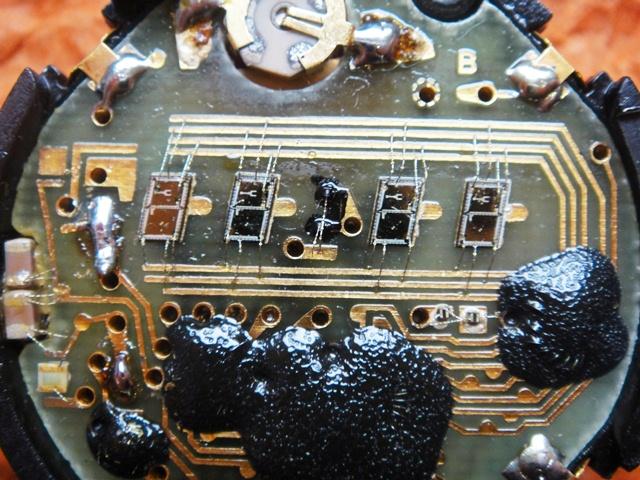 There is sufficient space on the back side of the board however the old-style setting trimmer has been placed under the battery-well what makes adjustments somehow difficult. The nice feature are the two screws which hold the module in the case, something that was used by only a few like Pulsar and Sanyo (Sears). The case is really high quality made by Ross USA known from the earlier Elgin Minicom and from other top shelf watches. The 20 micron 10K gold-filled bracelet by Duchess USA is one of my favorites uniting both a standard look with the flexibility of a Speidel type making it one of the more comfortable ever made.
Keywords: elgin time capsule, elgin led

Market value: 50-250$ (condition, box)