ELGIN 719 CHEVRON DIRECT READ JUMP HOUR 1957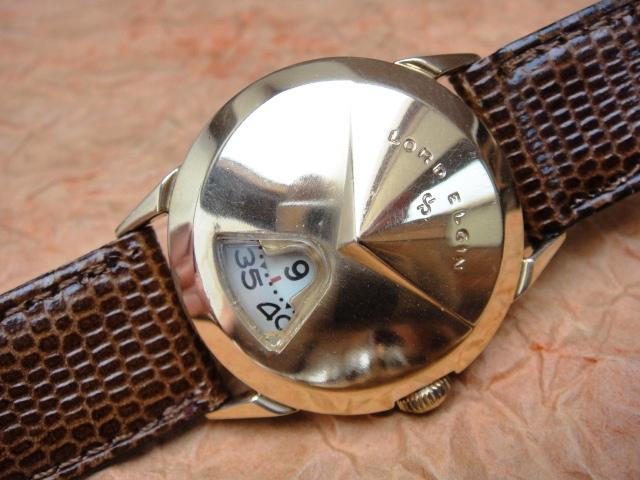 The "Chevron" is the middle range model from Elgin, nicknamed this way due to the "V as Victory" case design. This slightly space-designed shape looks cool but the sharp tip is the most exposed part of the case making it "risky" for daily wear. Nearly all of these watches show extreme to heavy wear on the tip after so many years what reflects the appearance and collector value. A New Old Stock condition piece is impossible to find but as pictured here... I must have been lucky :) The original factory finish can be clearly seen on the satined caseback below which is usually polished to shine.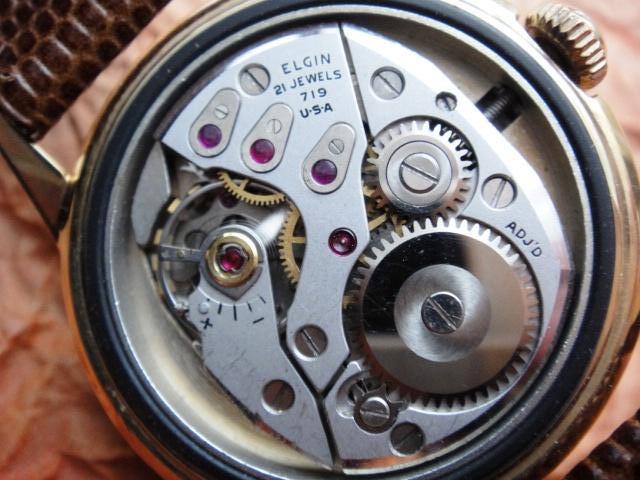 Many watches in the 1950's were sold with fancy expansion bracelets with leather inserts as shown above... hard to find nowadays in good condition. In comparison to the Golfball the Chevron features a slightly upgraded calibre the 719 with 21 jewels of which 4 are non-functional cap jewels. The movement appearance has also been improved by having the bridges satined on top and the wheels polished. Additionally a 25,5x2,1mm spacer ring (pictured below) is required inside the Chevron case to fill in the excess distance and also a thick gasket has to be applied to prevent the movement from rattling.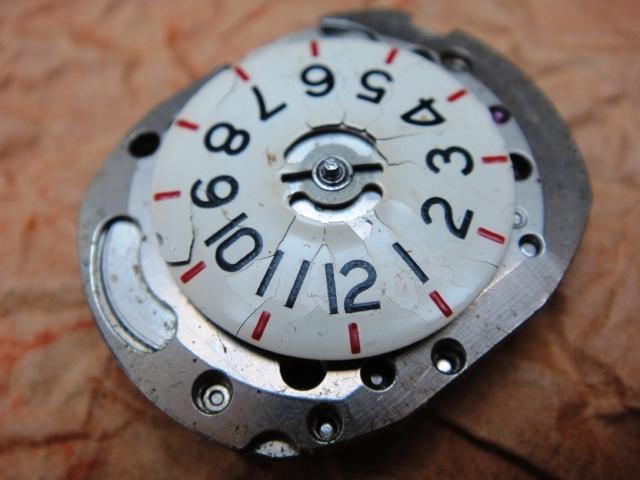 Replacing a damaged minute disc is pretty easy with new parts from Gary Clark as mentioned in the Golfball section. The hour dial was painted on stainless steel so depending on the storage conditions after so many decades these dials are cracked and peeling from age and additionally usually scratched from lousy servicing. NOS dials are impossible to find and printing them anew in a professional way would cost 50$ if not more. The wisest solution is to secure cracked paint with a new application in all damaged spots to prevent peeling from spreading. As shown here this might not be a perfect result but believe me that it is sufficient and not that visible after fitting the minute disc and placing the movement in the case.
Keywords: elgin jump hour, elgin chevron
Market value: 100-500$ (version, condition, rare box)