EDOX GEOSCOPE GMT WORLDTIMER 1970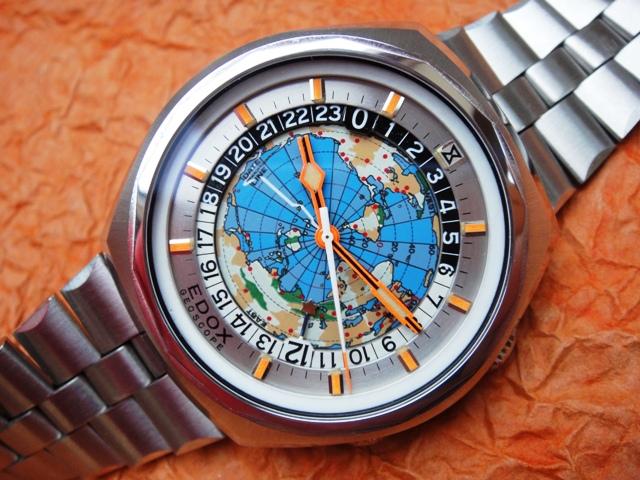 The "Geoscope" is a cult 24h WorldTimer introduced by the reputable Swiss Edox in 1970. It's not a chronograph but I feel that it's the best gallery for such a massive sportswatch. The case is 42mm wide made of a single piece of stainless steel referred to as monoblock. It's a superwaterproof "Compressor" style case made by E.Piquerez SA with the characteristic double crowns. One has a split-stem and the other is used to rotate the 24h timezone bezel ring. Both are completely waterproof despite the lack of threads. This must have been quite an interesting invention by EPSA also used in the Lip Nautic-Ski. The case is opened from top with a rare 14-sided 38mm wrench so if you can't create a custom wrench you will never remove a tightly closed screw-down bezel after decades of storage.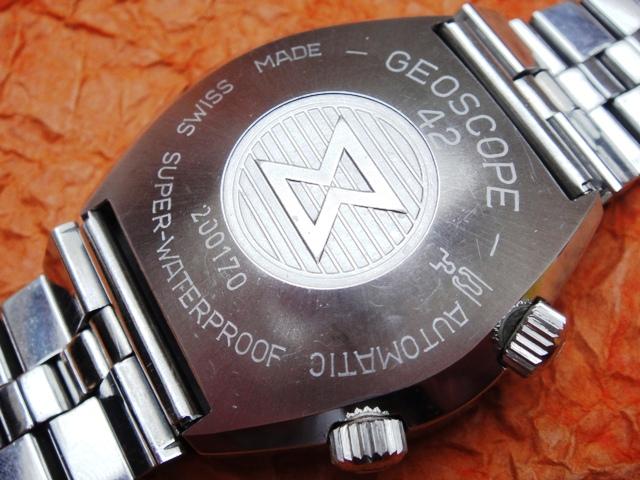 Many Geoscope watches have black rubber gaskets (under the thick glass crystal) that have deteriorated due to age what is common for many vintage watches of that era. Unfortunately in most cases the gasket has also deteriorated the white index ring with 5 second intervals and requires a new print by a dial restoration shop. The damaged ring is shown above and also below but repainted completely white (I will have it reprinted one day). The movement is a common but visually upgraded ETA2774 calibre with partially dismantled date assembly that has been replaced with a World map. The colorful dial rotates one revolution per day and shows timezones for every place on the planet. Note! The dial is made of very thin and soft aluminium thus DO NOT apply any pressure onto the map surface while removing hands!
Keywords: edox geoscope (also sold as eterna and concord geoscope), eta 2774

Market value: 750-2500$ (bracelet, condition, box)