DIFOR SECTEUR RETROGRADE JUMP HOUR 1972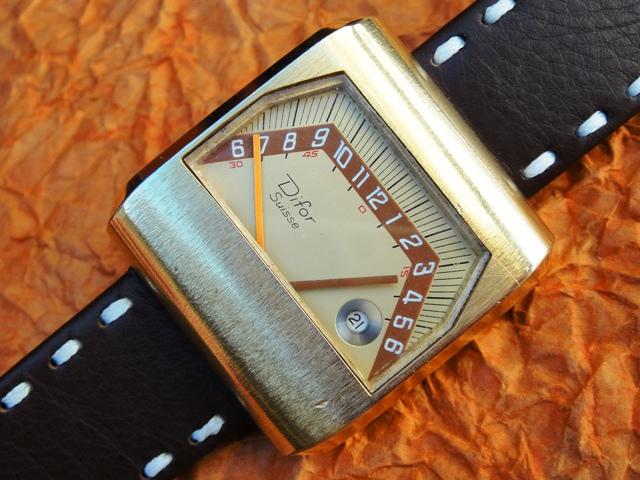 Yet another "Secteur" or "Retrograde" concept by Difor of Switzerland. There is hardly any information about this brand and most of them can be found in French speaking regions. The idea is identical with the Wittnauer Futurama and Lip Linear as they all utilize the same retrograde module fitted to a mechanical movement. In the Difor the movement is a high-grade manual 7046 calibre by Peseux that was fitted to many top-shelf watches of that era including Girard Perregaux and even more notable brands. The movement can easily be replaced from any other watch but note that the date disc is printed at a slight angle, however a generic date disc will also look presentable.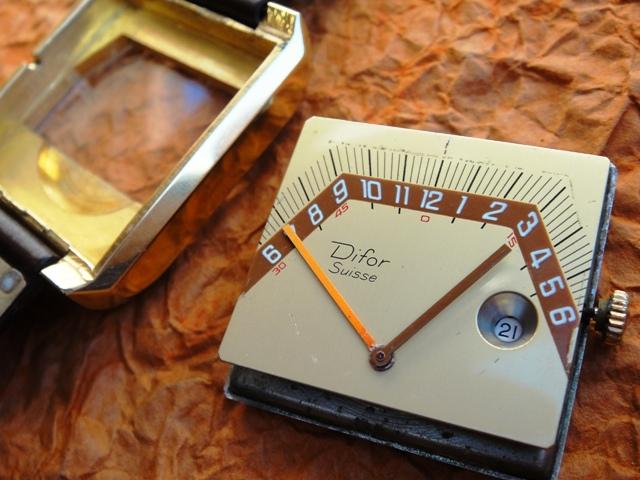 The Difor is different than other design as the dial markers are printed in a different layout. Hour 12 and 0 minutes are placed in the center thus the hands do not jump at midnight but at 6:30 what I find a bit akward. When assembling the watch you will be in for a surprise if you forget about this difference and set the date to change together with the jump of the retrograde "cranes". Matching the date change with the hands is difficult on the Wittnauer and Lip but the Difor is even more tricky and might require a few attempts.
Keywords: difor retrograde, jump hour, secteur
Market value: 300-1500$ (version, condition, box)