COMPUCHRON HUGHES AIRCRAFT LED 1976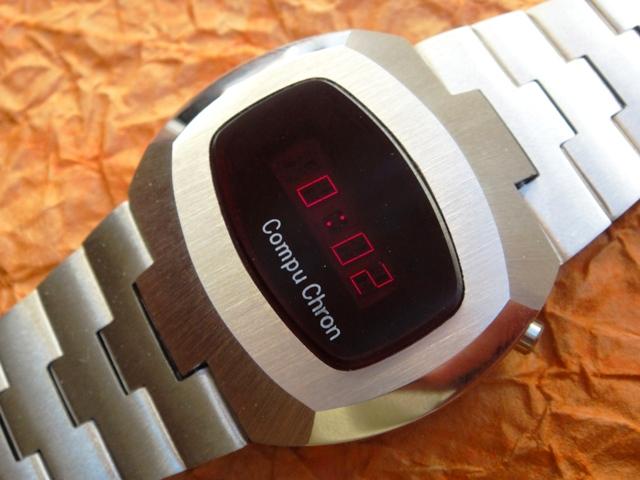 This is probably the most popular and common Compuchron made from 1976 to 1978 fitted with a late 25mm Hughes Aircraft module with buttons at 2 and 8 o'clock. Compare two versions pictured below - they are almost identical however the one on the left is an earlier model from 1975 utilizing the larger 29mm Hughes module with buttons and 2, 3 and 8 o'clock. Despite the smaller 25mm module the later version is just slightly smaller and thinner so it is really hard to differentiate one type from the other. There is a story behind these watches - Unisonic the company using the Compuchron brand (check leaflet pictured below) had thousands of cases made in Japan somewhere in 1977/78 when Hughes stopped production of 25mm modules. In effect you can find dozens of NOS leftover empty cases sold on eBay for cents.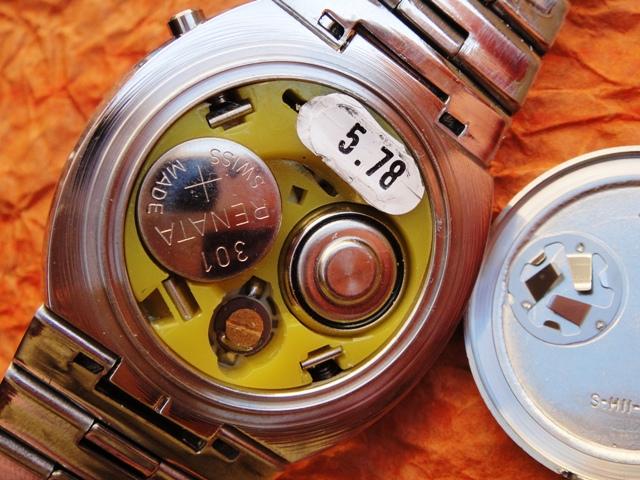 Due to the large supply of empty cases the 25mm LED modules are hard to find but with some luck they might be sourced in small ladies Compuchrons, small mens Timex's and some obscure brands as Fleetrite. When buying such LED watches for the module always compare the button locations to make sure especially Timex watches as they utilized a whole bunch of different modules even when the cases looked alike. Repairs of these modules is possible but rarely is worth the effort. The quartz tube is wirebonded with delicate wires to the ceramic substrate and covered with silicone what is the most common issue with nonworking modules. More indepth repairs requires careful removal of a plexi cover that is glued to the substrate. This action is rarely possible due to excessive amounts of silicone used for this purpose in the factory as the silicone in most cases has also glued the circuit wirebonds.
Keywords: compuchron, chronosonic led

Market value: 25-200$ (model, condition, box)