CITIZEN CRYSTRON 8620 SOLAR QUARTZ 1976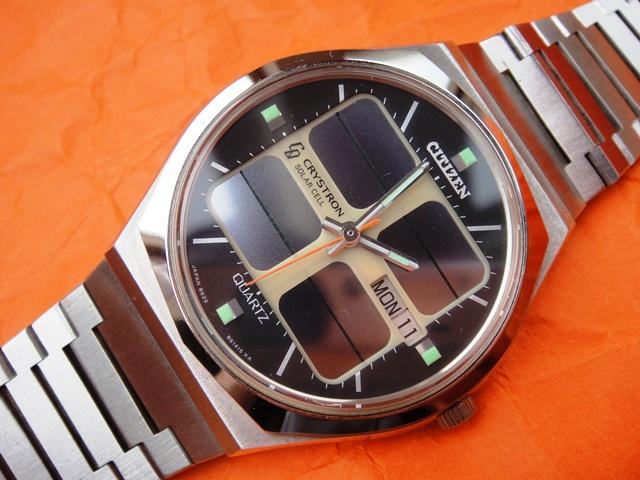 The Citizen Crystron Solar is the first solar powered analog wristwatch in the World with genuine solar panels incorporated in the dial. Further inhouse R&D at Citizen was accomplished with the commonly known and successful "Eco-Drive" series of solar wristwatches. Later models have completely invisible panels but Citizen on some occasions returns to the basic designs by exposing the solar wafers in the Citizen Butterfly. The 1976 model was available in a few dial versions in steel and goldplate but finding a matching pure 70's box for the Crystron is a big achievement.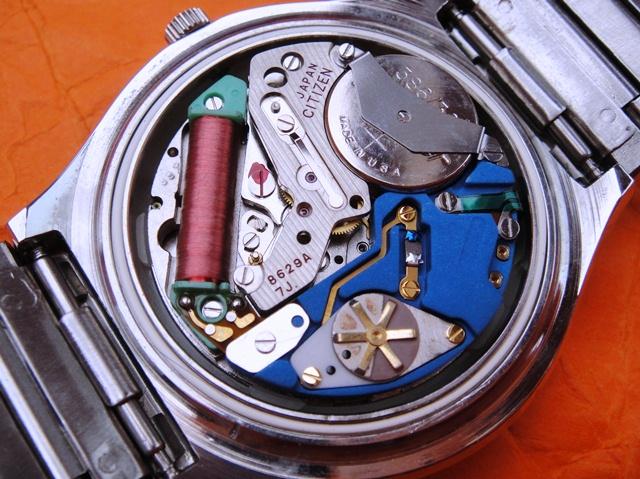 The Crystron features a high-grade 7 jewels 8620A calibre of which probably also non-solar versions exist. A standard battery will make it work but the solar function will require a rechargeable battery/capacitor. I have not yet bothered to buy one as I never wear my NOS piece but thanks to Denis Hess I can provide you with the proper cell code. The best suitable version is a Varta V15H but be aware that the first charging cycle might be very long.
Keywords: citizen crystron, citizen solar

Market value: 50-200$ (version, condition)