BULOVA QUARTZ LED 1976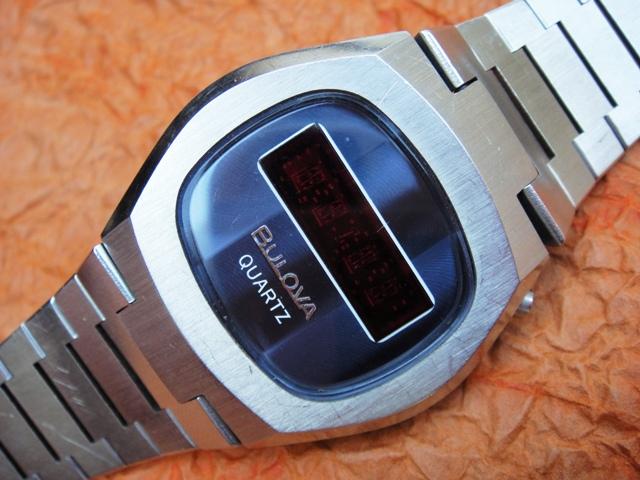 As we know by now Bulova never made any digital watches and bought everything from various manufacturers. This Bulova LED Quartz has no particular name in the collector world but presents excellent value for money despite having been made in 1976 at the decline of the LED industry when most semiconductor producers already dropped prices to rock bottom. The Bulova is fitted with an excellent module with Mostek chip that has one of the best layouts ever applied to LEDs. It's truly a smart and sterile design. Unlike other modules from that period it has an excellent quality large display covered with epoxy as opposed to cheap plastic lenses that never provide good visibility when viewed at even a minimum angle.
The interesting idea behind this watch is that is doesn't have a typical red crystal on top. Instead a nicely brushed dial with applied logo has been fitted under a transparent plastic glass. This might have been caused perhaps by the idea to start using LCD modules instead of LED. (Some watches of the late 1970's can be found with both types although externally they look alike). The red display filter has been combined with a substrate carrier that also serves as spacer that keeps the electronics board in position within the case. The plastic top with battery clip serves only to position batteries in place. The clip might be missing and its function is to connect both battery terminals with the caseback to close the circuit. The same module can be found in other watches including some cool Imado designs.
Keywords: bulova led, bulova quartz
Market value: 30-200$ (condition, box)