BULOVA 228 ACCUQUARTZ BIGBLOCK LED 1974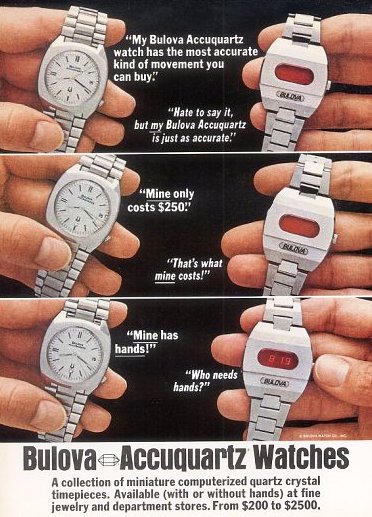 The "AccuQuartz" from 1974 is the first LED watch from this once reputable company. Nick-named the "BigBlock" due to the massive case it was outsourced to Hughes Aircraft and renamed to calibre 228. In the 1970's Bulova dropped their efforts within R&D and only produced Accutrons of which many were made by the Bulova-Citizen joint-venture in Japan. Everything else within watchmaking was outsourced or acquired from various companies to be sold with the Bulova label. This marketing/labelling policy followed until 1979 when the Bulova brand was sold to Loews Corp. holding (resold to Citizen in 2007!).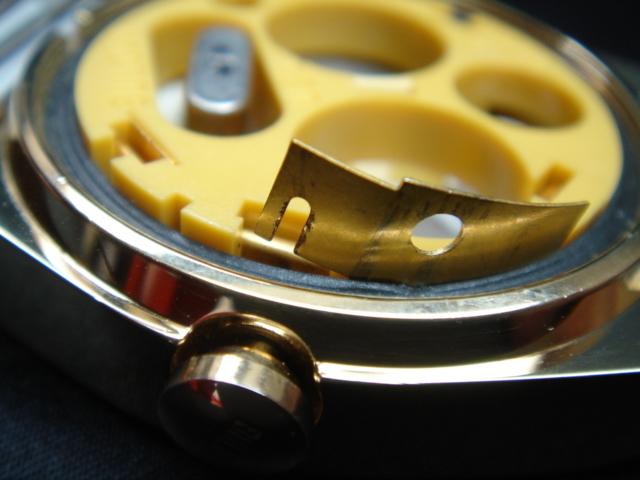 The 228 module was made exclusively for Bulova although it was just a modified mass-produced 29mm Hughes LED module fitted to thousands of various watches from 1973 to 1977. The unusual Bulova modification contains a traditional stem as opposed to more user-friendly buttons found already in 1973 versions of standard Hughes modules. Optel LCD watches also used a crown-setting procedure so this approach might have been applied due to traditional customer expectations to make the new solid-state devices less shocking for people widely accustomed to crowns on mechanical watches?! Unfortunately this prehistoric "stem" concept causes malfunction on most of these watches due to mechanical unreliability. The stem and connectors have to be perfectly alligned to display anything!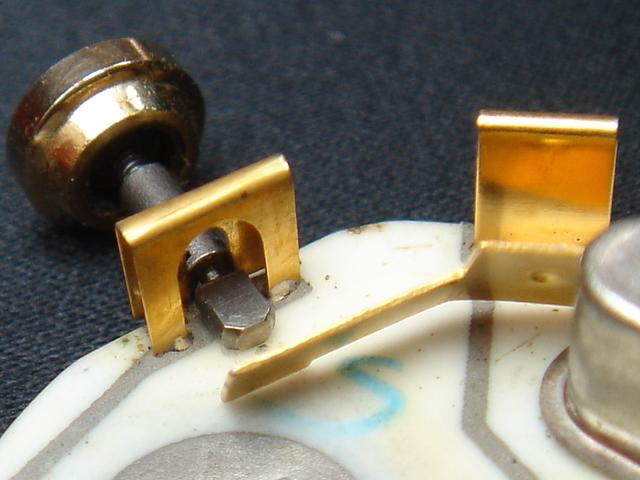 To be exact due to this feature the watch can by no means be considered as "solid-state" in the sence of not having any moving parts! First of all the stem is spring-loaded with a safety plate that also secures the stem in the case - the plate must perfectly fit a notch on the stem! Removing the stem is not that easy and improper care might damage the module, even a slightest crack (pictured below) in the plastic carrier will cause misallignment and improper connectivity. When inserting the stem - the narrow side first has to go through the hole in the center connector and once pushed half-way in, the stem must be turned 90 degrees before pushing its wider section further in so that the notch on the stem will allow to insert the safety plate.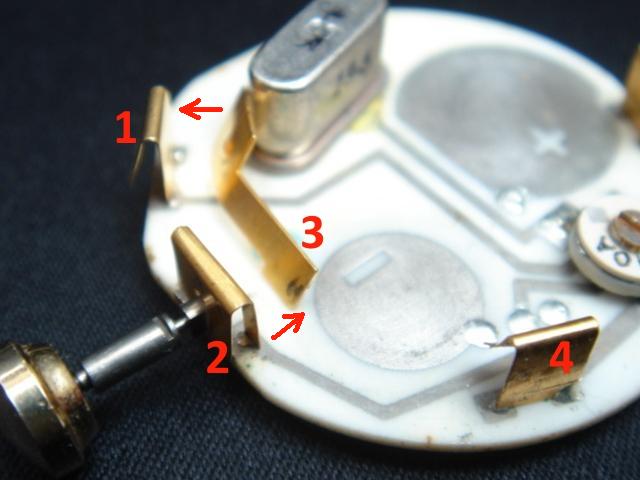 The stem in neutral position must not short any connectors on the module. Time is displayed by pushing the crown like a button so that the stem connects a lever (mounted in the yellow plastic carrier) which forwards pressure to the top connecting plate - in other words, time is displayed by shorting the stem and (1) top plate and (3) lever only! Seconds are displayed by pushing the crown further in - the stem shorts all three plates - the center (2) and top connector (1) with the lever (3). Date is displayed by pulling the crown - the stem shorts the center (2) connector only. Dirty connectors or even a slightest misallignment between them will cause malfunction. No display = considered dead, although the module will be in full working condition.
Keywords: bulova led, bulova accuquartz, bigblock, big block
Market value: 75-350$ (version, condition, box)