BULOVA 214 SPACEVIEW CONVERSION ACCUTRON 1966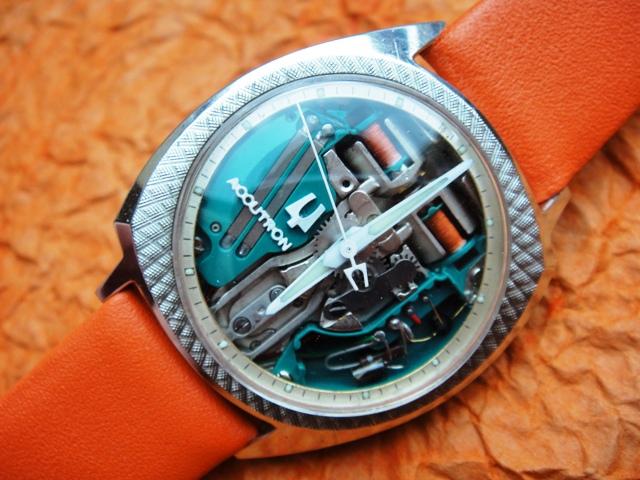 Here we have a watch that is a perfect eyecatcher! But it wouldn't be that sexy if not for the spaceview movement that I have exposed. This is my first Accutron conversion, a true custom-built Spaceview. I'm not into conversions at all but I always wanted one that would stand out from the crowd. I have decided to use the index ring from the original dial because the dotted-crystal conversions are so common and boring. I was thinking about applying a crystal with logo but the original one remained while the applied logo was removed from the dial and painted white along with the hands. Also shown is the dial held in the claws of my lathe. It wasn't that easy considering that the claws produce a firm grip around the pretty soft dial. Low to medium speed was required with very slow revolutions at the final stage.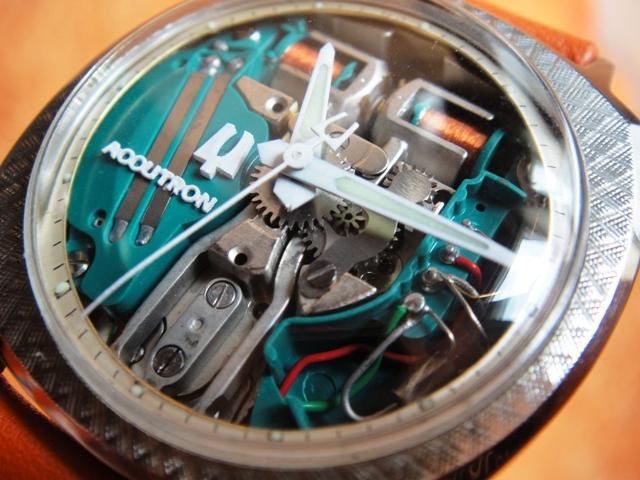 The inner edge of the ring was also filed down from the bottom side so that the visible edge would be minimal. It's not all perfect but the final product exceeded my expectations and the orange strap perfectly corresponds with the copper coils. Check pictures above and compare the before&after condition. PS. When creating a spaceview conversion bear in mind that a spacer-ring or any kind of gasket must be applied in place of the removed dial. Otherwise the movement might rattle and the setting stem will be to short to move the hands properly.
Keywords: bulova accutron, bulova 214, spaceview conversion

Market value: 150-350$ (version, condition, box)