BENRUS DIAL-O-RAMA CHEVRON DIRECT READ JUMP HOUR 1957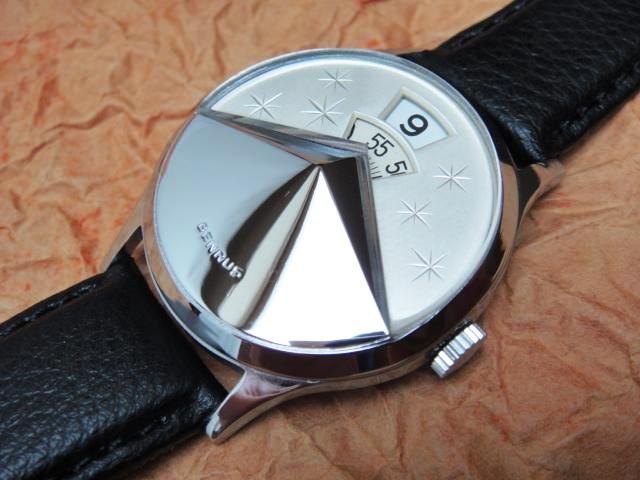 The Dial-o-rama was made in either goldfill or chromeplate in four case designs of which this Chevron is the most collectible usually reaching top prices. The technical bulletin shows yet another model with jumping hours and analog minutes featuring a totally unknown and more complicated EU calibre. I have personally never seen one in more than a hundred watches so it must have been an early short-run version or maybe even prototype. You might find similar watches called Louvic with a Chevron dial/mask under a crystal but it contains a later 1960/70's AS1900 calibre with vertically printed digits. The Benrus has a plated solid metal case with sharp tip that usually is completely scratched and worn from years of use. Finding a sharp tip is a miracle and reflects the value.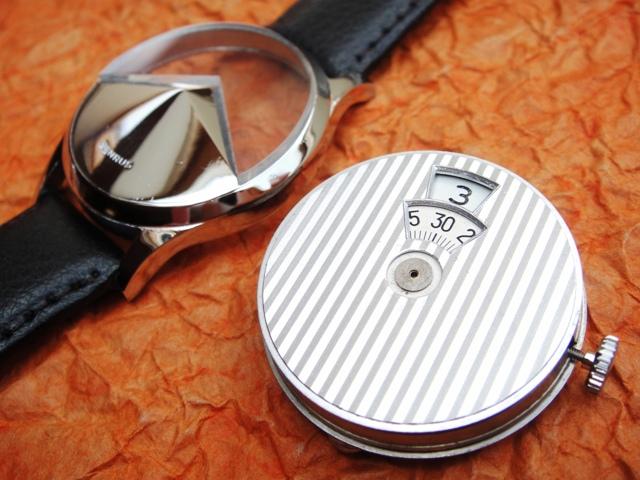 The Chevron has a standard snap steel caseback and is not waterproof like the standard Star Dial-o-rama version. The dial came in two designs either gold/silver stars or a striped etched version. They are very often discolored due to age and poor protection on the edges of the glue-fitted crystal. The Chevron has the same FG25 movement but does not show any seconds. This feature sometimes is very helpful because you can easily repair a Star version with a vital but broken seconds pinion by swapping the movement from a Chevron case... and all this without any lack of functionality. Please note that service and lubrication of these movements is important, otherwise the cannon pinion might get to much friction what will cause the tower/clutch wheel to break during time setting.
Keywords: benrus jump hour, dialorama, dial-o-rama
Market value: 100-500$ (version, condition, box)