ARCTOS 575 ELECTROVAC DIGITAL QUARTZ LCQ LCD 1973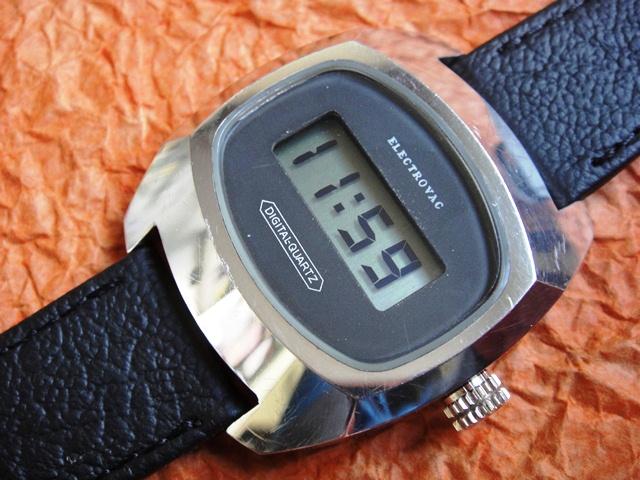 This is the first German LCQuartz watch developed in 1973 by a joint-venture of few watch companies Arctos, Provita, BWC and technology suppliers Electrovac (LCD), Motorola/Siemens (Quartz). These watches are super scarce and do rarely appear only on the German and Austrian markets. This one is a Field Effect type branded for Electrovac from Vienna and is the first generation LCQ 575 model. The famous database of Pieter Doensen does indicate an earlier DSM version but it appears to not have reached significant production quantities but can be found on Peter Wenzig's website. These watches were made to last and are quite robust both externally and internally although the aging circuitry tends to malfunction.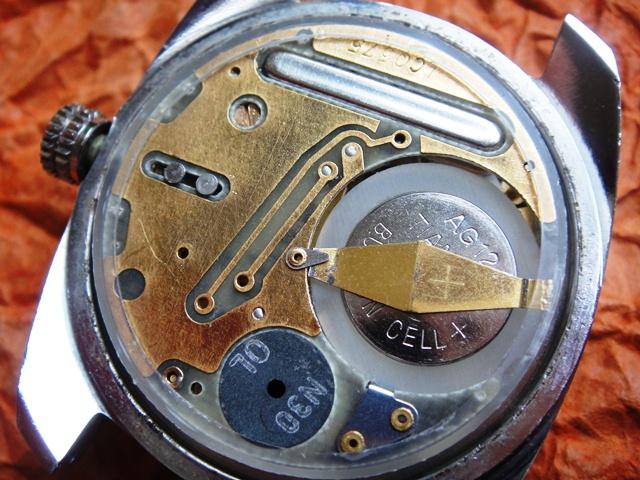 The LCQ575 displays only hours and minutes and has the old-fashioned watchmaking concept (observed on early Optels, Gruens, Seikos, Bulovas) of applying a time-setting crown and stem. This should not be a surprise as it was developed mainly by watch people from Pforzheim although the crown is not turned to change functions but is pulled out. I find this solution a bit over-engineered however it gives the user a clear distinction of setting positions by means of 3 notches on the stem which is tightly fitted in the crown tube. Inside the module the stem moves a sliding pertinax plate with small brass pin which shorts the levers with corresponding traces on the substrate to change hours and minutes. This pin tends to wear out after decades of use with tiny brass particles additionally causing unintended shorts and malfunctions.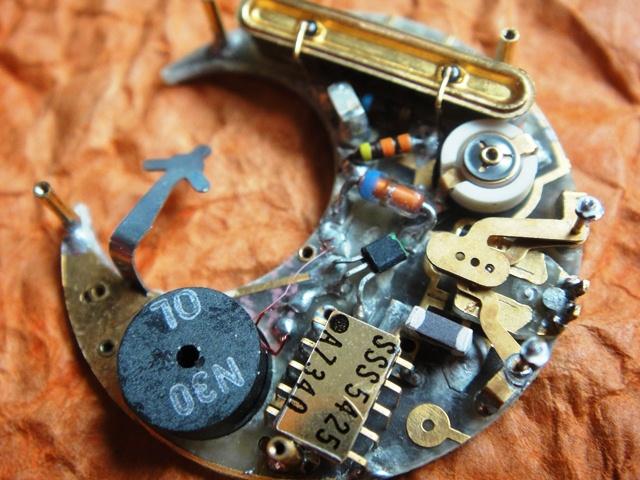 The man-made module construction is quite similar to Optels but more reliable and smarter with separate pertinax substrates assembled with 4 small screws with only the setting assembly being soldered shut. Repairs are thus difficult and require careful unsoldering. By analysing the early LCD modules from various brands you might observe that many of them used components from the same electronics manufacturers. The 575 is equipped with a 1973 microchip from the American Solid State Scientific company (SSS) which also supplied chips to Optel. More similarities and details on the setting assembly are shown in the LCQ675 review which was a bit easier to disassemble without risk of damage. A comparison of the 575 and 675 modules is shown below. A 775 with 2 cells was also made - a later type judging by the quartz size.
Keywords: arctos lcd, arctos 575, provita, electrovac, bwc

Market value: 100-350$ (version, condition, box)