AMIDA DIGITREND LRD DRIVERS JUMP HOUR 1976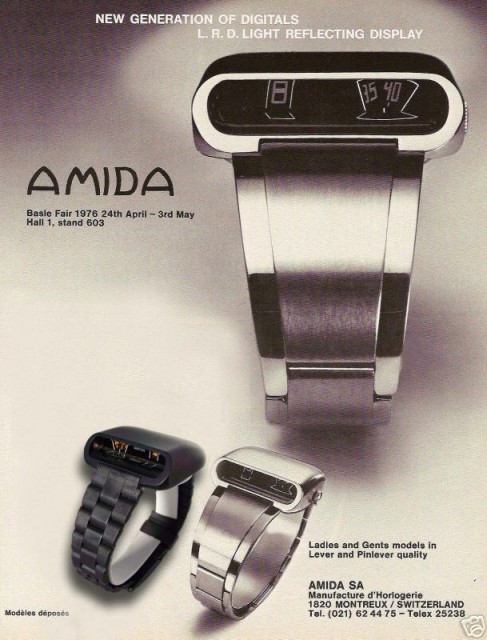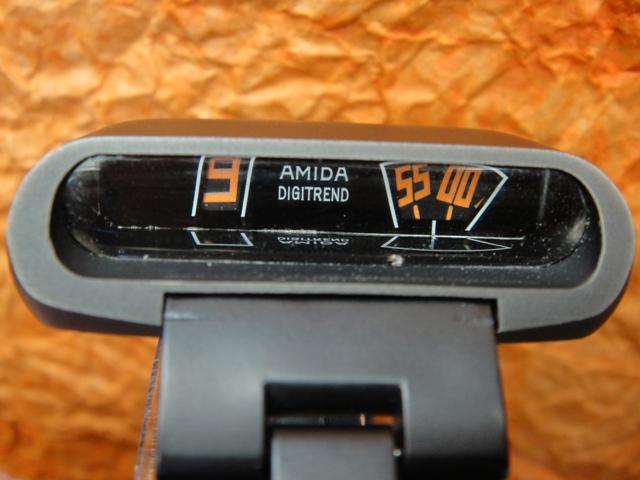 The "Digitrend" by Amida is a one of a kind timepiece introduced at the Basel Fair in 1976 as a cheaper alternative to the popular driver's style LED watches such as GP Casquette or Bulova Computron Sideview. It was cheap because it was a manual wind mechanical device featuring a breakthrough LRD display concept. Light Reflective Display was a nice marketing slogan that was simply and smartly achieved by means of a plastic transparent prism. A standard jump hour movement was fitted with horizontal mirror-printed discs that were optically converted to a vertical display. How cool is that!
The Digitrend was made in cheap chrome-plated base metal with stainless bracelet or black gunmetal finish with plastic strap. The watch has become very collectible over the years but most people are not aware that it was a cheap disposable gadget. It contains a plain 1-jewel 420 calibre by the Michael Berger Watch Company known from producing designer and promotional throw-away watches such as Endura. As mentioned in the advert above lever quality movements were offered by the producer however all Digitrend models I have ever seen were fitted with a disposable pin-lever. The 1-jewel trick was a common approach in those days to allow advertizing of a junk watch as "jeweled". Fortunately enough MBWC made other classic jump hour watches that can be sourced for reliable 17-jewel movements.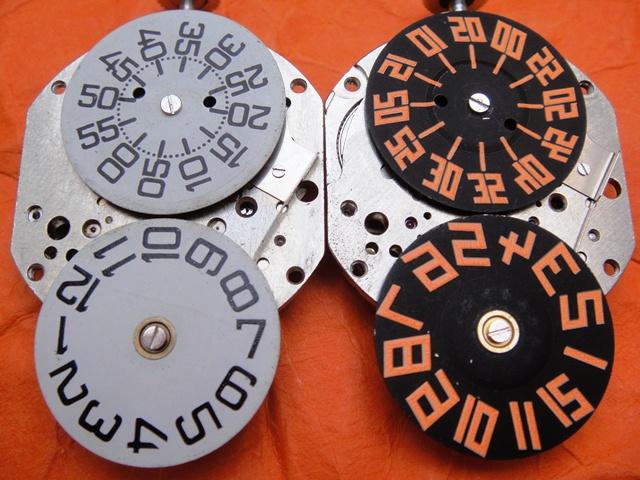 MBWC aka Endura Swiss Watch Company used different brands and made watches for private labels. Instead of servicing your broken 1-jewel Amida it will be easier and cheaper to search for such brands: Endura, Amida, Nelson, Ingersoll, Dynasty, Lord Lane, Gladius, Simba... High-grade lever movements should have 17j printed on the dials but in case of uncertainty you can always ask a seller to open the snap-back case and confirm movement quality. If you're a purist you can always try to have your 1-jewel cleaned and lubricated but it will never be as reliable as a fully jeweled piece. Lubricated ruby jewels in a watch are installed for mechanical reliability to reduce friction and wear on the pinions. 17 jewels is a full amount that will provide reliable time keeping and more than that are used only for prestigeous reasons.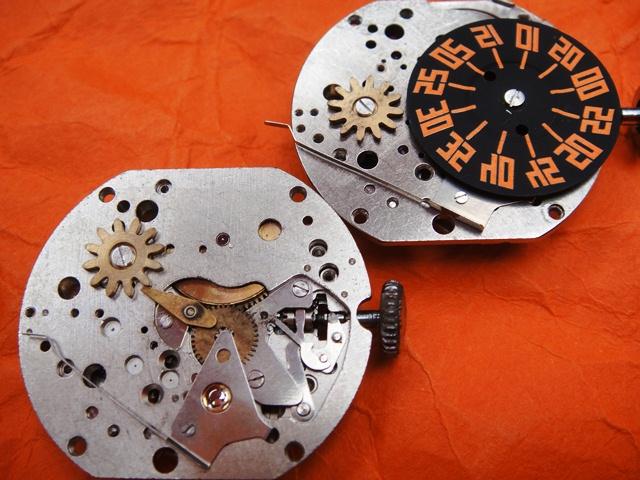 A 1j (420cal) to 17j (910cal) comparison is shown above and the swap process is very easy. From the time I have posted information about this interchangeability (in forums, my 2005 website and eBay) I think that about 50 or more happy owners have upgraded their Digitrends to reliable specifications. Please email me for instructions or a service if you're interested. The swap takes just a few minutes but you have to make sure that all necessary parts are transplanted especially that some ladies movements might have slightly smaller base-plates and shorter stems. As shown to the right - such movements with smaller discs will require moving a brass gear from one hole to another including a longer jump spring. Btw. If you ever find an empty Digitrend case you might create a custom piece by robbing a movement with snap-caseback from any other Amida and apply a mirror-printed sticker onto the standard discs (check pic above).
Keywords: amida digitrend, fortaine, crehor, hudson, jump hour

Market value: 150-650$ (1j. or 17j. movement, bracelet, condition)